Inclusive Views: Black Voices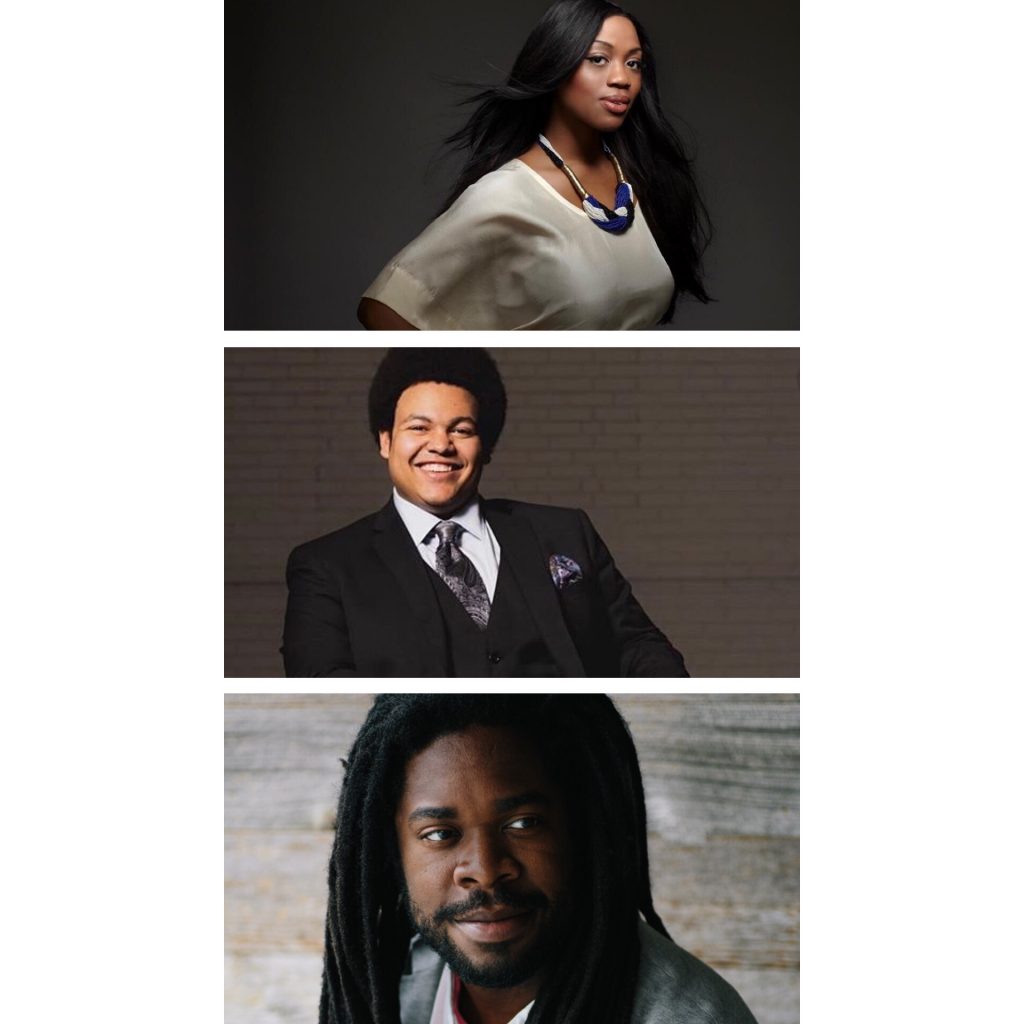 Recognized for her "purity of tone and vivid theatrical presence," (Opera News) Laquita Mitchell is quickly becoming one of the most sought-after sopranos throughout North America and Europe. She has led performances with the Los Angeles Opera, San Francisco Opera, Houston Grand Opera, Lyric Opera of Chicago, New York City Opera, Washington National Opera, and Opéra Comique in Paris, among many others. 
British-American tenor and inaugural recipient of the James McCracken and Sandra Warfield Opera Prize, Joshua Blue is a bright, young singer on the rise. His previous seasons have included his debut at Carnegie Hall in Handel's Messiah with the Oratorio Society of New York, performing the role of Scaramuccio in Ariadne auf Naxos by Richard Strauss with Austin Opera, the American premiere of Philip Glass' The Trial at Opera Theatre of Saint Louis, and many more. 
Baritone Dashon Burton has established a remarkable career spanning a variety of musical artforms, including opera, contemporary chamber music, works with orchestra, and more. Applauded for his "nobility and rich tone," (New York Times) he has won prizes from the ARD International Music Competition, the International Vocal Competition in 's-Hertogenbosch, the Oratorio Society of New York, and the Bach Choir of Bethlehem's Competition for Young American Singers.
unCLASSIFIED was honored to speak with these three vocalists about their inspirations, their experiences as Black artists in the classical community, and organizations that they believe are supporting diversity in the arts.
When did you first decide that you wanted to pursue music professionally?
LM: I decided to become a professional singer while applying to graduate school. I realized that the path to becoming a singer would interest me more than becoming a school teacher. 
JB: I've always been infatuated with music from a very early age. I spent most of my formative years playing piano, genuinely believing that I would be a professional pianist, but I found my place in vocal music thanks to my high school choir director Mark Myers at Waubonsie Valley High School in Aurora, IL. I had the wonderful opportunity to travel to Sydney, Australia during my senior year in high school and Mark Myers made sure that we got the chance to see a production of Verdi's La Traviata on a stage floating in the Sydney Harbor. It was that moment that made me realize I wanted to be an opera singer for the rest of my life. 
DB: I didn't know it was even possible to be a professional musician until much later than many of my colleagues. I was in many choruses and musicals in high school, and when the time came to think about college, I kept receiving advice that music education was a great backup career. I knew that I loved to perform, above all, and didn't want to go into music education if my heart's attention was split. I was grateful to be admitted to Oberlin College, where I studied vocal performance. While at Oberlin, I attended a choir concert that changed my life forever. The Eastman Chorale was on tour and performed a piece by Stephen Stucky called Whispers. Afterwards, I headed straight to the library to find a recording and came across Chanticleer's. I looked them up and saw they were holding auditions for a full–time position in the group, which seemed really appealing to me at the time. I didn't get accepted into Chanticleer, but later auditioned for Cantus from Minneapolis, and the rest is history. It gave me the bug for travel and for the performing musician's lifestyle! I knew that I wanted to make it my life's work.
Have you seen a shift in the representation of Black people in the world of classical voice, whether that be musicians on the stage, the people behinds the scenes, or the stories that are told?
LM: There has certainly been a shift in the casting of Black musicians. Initiatives geared toward classical instrumentalists like the Sphinx Organization has certainly helped illuminate the gap that still appears within orchestras all over the world. However, behind the scenes at every symphony orchestra organization and all opera houses, I believe there are less than 2% of people of color in management positions, still in 2020. That has to change! 
JB: There have always been Black people in the world of classical voice. We are just getting better at showcasing diversity from a mainstream perspective. Part of the representation issue in opera originally stemmed from this idea that "historically" there are not many "Black" roles available for Black people to sing, when in reality, the only reason there weren't "Black" roles was due to the fact that many of these composers lived in primarily white countries. The only singers they had access to were white people. There are plenty of incredible roles for Black people in opera: Violetta, Mimi, Macbeth, Rigoletto, Papageno, Tamino, Don Ottavio. They are a few roles that I have seen INCREDIBLE Black singers take on in the past 2 years alone! 
The stories being told on stage are changing as our history is being written. Stories that were seemingly lost to time are being unearthed, and the voices of the disenfranchised are finally gaining traction on a national level. The more we are willing to speak out, tell our stories, and be vulnerable with one another, the more we will see a diverse representation of all people on the stage. With that being said, it can be hard to get your foot through the door to tell these stories, and it is thanks to incredible allies like Paul Moravec, Mark Campbell, Jeanine Tesori, Francesca Zambello, Jake Heggie, and so many more who are using their status and privilege to share these very important stories with the world. 
DB: The shift in the representation of Black voices has been slow, but the thing that I am most optimistic about is the ubiquity of people's efforts to make music and tell stories in a more representative way. As much as I cherish the old warhorses and chestnuts on which my entire training is grounded, I didn't connect my own experience to the world of classical music until much later in my career. When I was able to meet many other singers of color and hear their stories (and find out how similar many of those stories were to my own), it reinvigorated my passion for connection through music. Instead of connecting myself and my favorite music to my audiences, it became more about connecting my stories, and the stories of my family and culture to the wider world. It's a great privilege to be a point of connection for so much of our community, and a great opportunity for me to continue to share the stories that come to me in any possible way. 
Joshua Blue; Photo by Arielle Doneson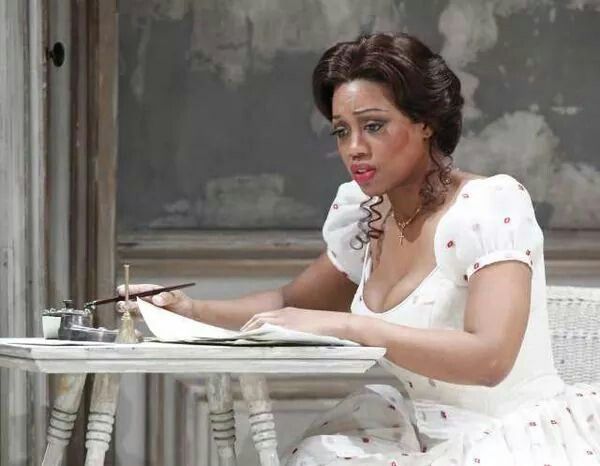 Laquita Mitchell; Courtesy of New York City Opera
What are some frustrations that you come across as a Black musician?
JB: While there are certainly hundreds of roles that Black people excel in, there aren't enough roles that are written about or from the perspective of the Black experience. There are certainly more stories today than there were 20 years ago, stories like Terence Blanchard and Michael Cristofer's Champion, Terence Blanchard and Kasi Lemmons's Fire Shut Up In My Bones, Jeanine Tesori and Tazewell Thompson's Blue, Daniel Bernard Roumain and Marc Bamuthi Joseph's We Shall Not Be Moved to name a few. These are important stories that are being told on national operatic stages, but is it enough? I think as time moves forward, we will continue to see more and more pieces written by and for Black people. I sincerely hope that I get to be a part of that in any way. 
LM: What frustrates me the most about being a person of color in the classical music industry is that as much as I express my concern about the lack of diversity within our companies and symphonies, the same organization will continue to hire Caucasian women and men for most positions. Why, because it's a small fraternity and if you've never been invited to the club, you have no access. This continues to happen time and time again. What happens behind the scenes certainly informs what the public sees on stage. 
Who are some Black role 

mo

d

els

 (classical and non-classical) that you look up to? How do they inspire you?
DB: I'm forever indebted to my teachers and family for supporting me and am inspired by them all. Particularly active heroes in my life have been the legendary singers that I've been able to meet recently: Donnie Ray Albert, one of the finest singers who has been active since the 70s, and George Shirley, one of the greatest teachers of classical voice in the world for the last several decades. In the realm of the current and next generation of superstars, Julia Bullock will always be my Polaris. Her fierce imagination helps me to remember how deeply transformative of an experience a concert can be, and we are all lucky to be alive at this time in history to witness her artistry.  
Outside of classical music, all of my friends say I have a problem and that I need help: the music of the bass player named "Thundercat" (born Stephen Bruner) has rocked me to the core for the past four years straight. His inventiveness and virtuosity on his instrument, combined with his penchant for not taking his genius too seriously is a lesson for us all.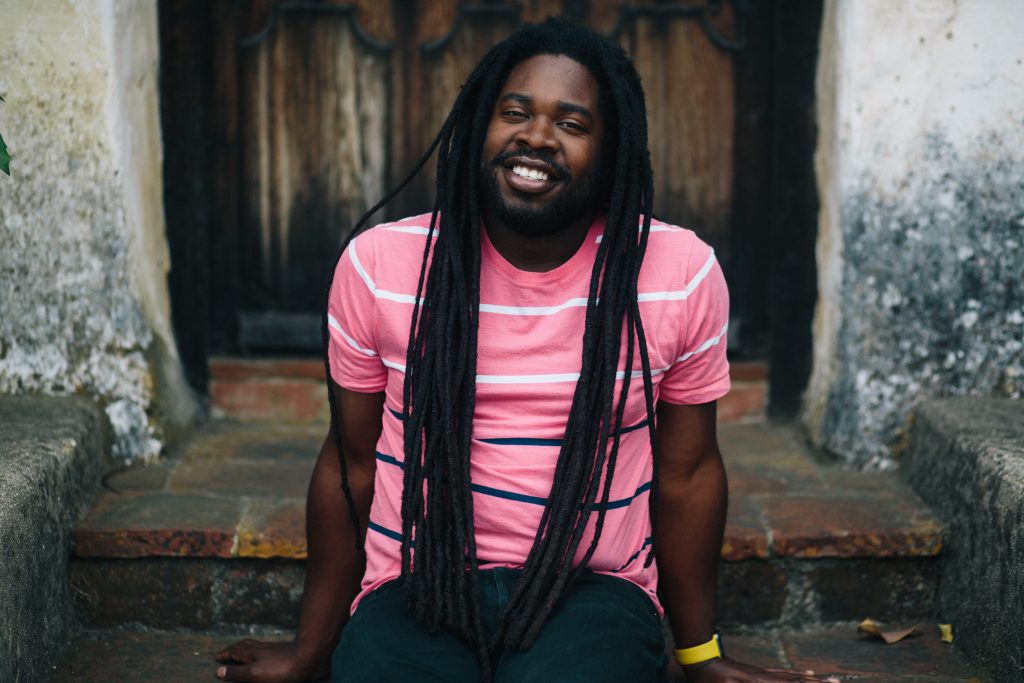 Dashon Burton; Photo by Tatiana Daubek
LM: I am inspired by Assistant Principal cellist of the Philadelphia Orchestra/conductor and founder of Project 440 in Philadelphia: Mr. Joseph Conyers. Joseph founded an arts organization that directly impacts the musical skills/education/life skills that are necessary for students in the Philadelphia area. These students have free one–on–one lessons with highly skilled orchestral players as well as free masterclasses with the greatest conductors of the world. The students learn to play together and to respect one another. These skills are so important to living a meaningful life.
JB: I am inspired every day by so many different Black people from so many different places that if I had to write all of them down, the word count of this question alone would be well over 2,000. I will try to do my best. 
First and foremost, I am inspired daily by my Black friends and colleagues with whom I work everyday at Washington National Opera. Joshua Conyers, Amanda Lynn Bottoms, and Rehanna Thelwell are three of the most genuine, beautiful, wildly talented people I have ever had the pleasure of working with. They are like family to me, and the way we support each other and lift one another up is something I admire in them. 
I look up to the current titans in our industry, the singers who are paving the way for Black people like me to make their mark on the mainstage. People like J'Nai Bridges, Angel Blue (no relation), Lawrence Brownlee, Eric Owens, Golda Schultz, and Ryan Speedo Green are but a few. They inspire me daily to never stop working at my craft, to create spaces and opportunities for people like me, to speak out passionately for my craft, and to strive to be better every day than I was the day before. 
I am inspired by Black artists like Jordan Peele, Donald Glover, and Rihanna who have been working so hard for so long to establish themselves and have proven time and time again to be multi-disciplinarians and masters of various crafts. They remind me that you don't have to confine yourself to one thing; if you love doing it, do it!
Are there specific arts organizations that you currently see putting forth enough effort to truly promote diversity and inclusion? What are they doing that really stands out?
LM: There are many organizations that are "trying" to promote diversity within the business. I'd say that Opera America is doing their best to push for the topic of diversity and inclusion to be included in their conferences. I'm not sure what the discussions have actually done to improve the issue. We can certainly speak about the issue, but if there is nothing done in terms of hiring POC behind the scenes in the fields of directing/musical preparation/librettists/conductors, we end where we've started. 
DB: I'm constantly encouraged by groups working to directly impact the next generation. Groups like the Detroit–based organization, Sphinx, are doing such great work in getting our collective message out there.  I'm also in an ensemble called Kaleidescope, which aims to bring visibility and strength in numbers to people in the field of classical vocal ensembles. 
JB: There are a few organizations that are putting forth great effort to promote diversity and inclusion, but I would like to take this space to talk about one in particular: Opera Theatre of Saint Louis. 
This is a company that I have had the privilege of working with for three seasons as a young artist. There are few companies with the same dedication to not just new music, but new, diverse music that represent a myriad of different people and cultures the same way that OTSL does. The company is dedicated to reaching out to the greater St. Louis community, (which has a Black/African-American population that accounts for 46.92% of the city) not just with their operas, but by sending their singers to the communities themselves [this interview was conducted before the pandemic was declared.] I spent a few weeks when I was younger doing outreach concerts with OTSL and we spend our time in schools, retirement communities, juvenile detention facilities, and of course with the many donors/volunteers of the company. They make sure that music is made accessible to all people, and every year, tell new stories that bring new groups of people into the opera house to fall in love with opera for the first time. I firmly believe that Opera Theatre of Saint Louis is a bastion for diversity on and off the classical stage, and will continue to advocate for all people for years to come. I am thrilled to be even a small part of that process.
We are so grateful to Laquita Mitchell, Joshua Blue, and Dashon Burton for taking the time to speak with us! Check out their stunning vocal performances as featured soloists on the recent Naxos recording of Sanctuary Road by Paul Moravec: