Inclusive Views: Latinx Voices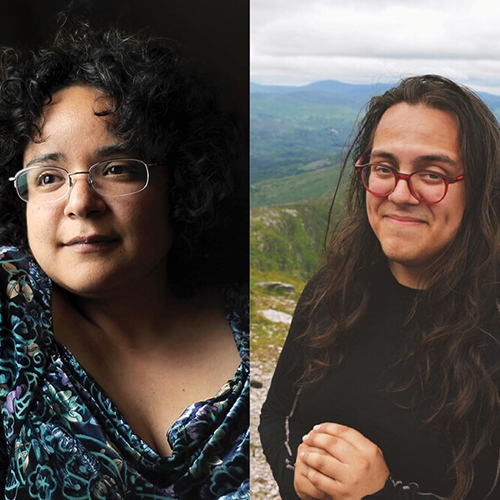 Gabriela Lena Frank | inti figgis-vizueta
Currently serving as Composer-in-Residence with the storied Philadelphia Orchestra and included in the Washington Post's list of the 35 most significant women composers in history (August, 2017), identity has always been at the center of composer/pianist Gabriela Lena Frank's music. Born in Berkeley, California (September, 1972), to a mother of mixed Peruvian/Chinese ancestry and a father of Lithuanian/Jewish descent, Gabriela explores her multicultural heritage through her compositions. Inspired by the works of Bela Bartók and Alberto Ginastera, Gabriela has traveled extensively throughout South America in creative exploration. Her music often reflects not only her own personal experience as a multi-racial Latina, but also refract her studies of Latin American cultures, incorporating poetry, mythology, and native musical styles into a western classical framework that is uniquely her own.
inti figgis-vizueta (b. 1993) is a New York-based composer whose music focuses on combinations of various notational schemata, disparate and overlaid sonic plans, and collaborative unlearning of dominant vernaculars. She often writes magically real music through the lens of personal identities, braiding a childhood of overlapping immigrant communities and Black-founded Freedom schools—in Chocolate City (DC)—with Andean heritage and a deep connection to the land. Reviewers say her music constantly toes the line between "all turbulence" and "quietly focused" (National Sawdust Log).
unCLASSIFIED took some time to ask these composers about their artistry, Latinx representation in classical music, and Hispanic Heritage Month.
What is the earliest musical memory you can recall?
GLF: I remember playing with two fingers on the family spinet piano as a toddler before I was fitted with my (much needed) hearing aids. The keys vibrated enough where it's speculated now that even though I was existing largely (and happily!) in silence, I developed perfect pitch.  Such is the plasticity of young children's brains!
IFV: I hold deep the melody and memory of O' Freedom, the Civil Rights Movement freedom song— a regular part of my school assemblies at Elsie Whitlow Stokes in Washington, D.C. My childhood of justice organizing and community engagement featured music primarily as a tool for empowerment and sharing space in our diverse city. The weekly Caribbean-led drum circles in Malcolm X Park, open mics at Bloombars arts space, and rotating poetry slams were essential to the fabric of music in my childhood and growth. D.C. is a different place now, a violently gentrified city . . . those memories are still here though, just buried under new developments and new faces.
How has your heritage inspired your artistry?
IFV: My Andean, two-spirit roots, and cosmological perspectives directly manifest in my work as the foundations for relational and social interactivity and the visual inspirations for my overlapping notations. I let flow the motions from the patternwork of Quechua weaving. I look at our constellations, light and dark, and I draw forms out of the relationships of pacha to spirits, to musical objects, and to poetic understandings. My rigorous practice of oral transmission, relationship-building, and collaborative unlearning of sonic tendencies reflects a deep belief that musical exploration can achieve moments of social and political liberation. When we witness such convergent moments, we expand our capacity to imagine, aspire, and enact.
GLF: I think I would have had to be numb to embers burning in my conscience to not allow my cultural heritage to inspire my music. To do this authentically, I have to wield ownership of my Latinidad on my own terms. A European genre like the string quartet can dance as zampoña panpipe ensembles do if I fancifully wonder: What if a violin and an Andean panpipe could have a baby?  What kind of music would it cry and sing?  Only then, through the blender of my imagination, do I distill the essence of multiple heritages as a multi-racial Peruvian American into a wholly new and inspired sound.
Gabriela Lena Frank; Photo via NewMusicUSA
What does Hispanic Heritage Month mean to you?
GLF: To me, Hispanic Heritage Month is an opportunity for an organization to reflect on the beauty of Latino cultures year-round, not just for a few weeks out of the year.  For instance, ideally, a music presenting society would not put on a concert celebrating Hispanic Heritage month unless they've programmed a comparable number of Hispanic composers and performers on their entire season.  Otherwise, this month is a very strange brand of racial absolution rather than a joyous tribute.
What does Hispanic Heritage Month mean to you?
IFV: A reminder of the scope of the colonial genocide to New World indigenous peoples and the subsequent erasure of our cultures, languages, and histories into the category of 'colonized' by the Spanish.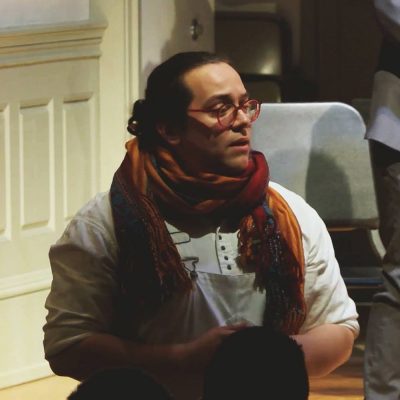 inti figgis-vizueta; via New Latin Wave
Do you believe the Latinx community is adequately represented in classical music overall? Is there greater opportunity to champion the works and contributions of Latinx people in the classical music community?
IFV: I've had the honor of mentorship from incredible Latinx composers including Tania León, Angélica Negrón, Felipe Lara, and Marcos Balter. Their music and presence affected me greatly as a young composer, inspiring, and giving root to the idea that concert music could reflect the complexity of my cultures. Not only should we center Latinx voices in classical music, but also refocus efforts on cultivating specifically Indigenous and Afro-Latinx compositional voices.
GLF: No, Latinx voices are not adequately represented in classical music overall.  One of the great gifts of the Black Lives Matter movement is the way it shines on racial inequity for other communities [including the Latinx community] as well.  What a loss to not embrace the contributions all around us from people of every demographic.  Happily, I do think there is greater awareness now than before.
Which organizations do you see supporting Latinx performers/composers adequately?
GLF: Before the pandemic shut down so much of our industry, the American Composers Orchestra was about to launch its first orchestra reading session specifically for emerging Latinx composers.  Such a great initiative! I know that this will return once the pandemic eases.
IFV: In my experience, it's ensembles who do the majority of the lifting when it comes to holistically supporting underrepresented voices. JACK Quartet runs a fellowship program, JACK Studio, that's specifically shaped to account for discrepancies in socioeconomic and institutional access along the axis of racial, ethnic, and queer representation. As a participant, their program feels particularly special to me, as I'm able to interact and develop work alongside Black, Canadian Indigenous, Mexicano, and Iraqi creators. I hope to see more programs engage in approaches to nationality, ethnicity, and identity as a whole that take into account the overlapping factors that impact access, voice, and opportunity.
We are so grateful to Gabriela Lena Frank and inti figgis-vizueta

for taking the time to speak with us! Explore more remarkable classical works and performances with our Hues of Music: Latin Voices playlist.