Inclusive Views: Patrick Dailey, Jennifer Higdon, and Ted Hearne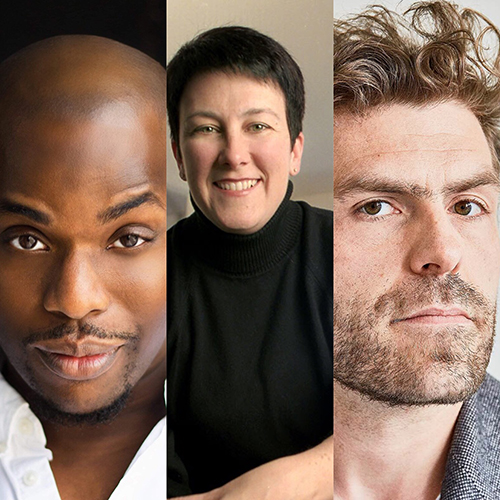 Jennifer Higdon is one of America's most acclaimed and frequently performed living composers. She is a major figure in contemporary classical music, receiving the 2010 Pulitzer Prize in Music for her Violin Concerto, a 2010 GRAMMY for her Percussion Concerto, a 2018 GRAMMY for her Viola Concerto, and a 2020 GRAMMY for her Harp Concerto. Dr. Higdon currently holds the Rock Chair in Composition at The Curtis Institute of Music in Philadelphia. 
Patrick Dailey has been described as possessing "a powerful and elegant countertenor voice" (Los Angeles Daily News) and a "vocal standout" (Boston Classical Review). He has performed regularly with Harlem Opera Theater, ALIAS Chamber Ensemble, Memphis Symphony Orchestra, and many other organizations of note. Mr. Dailey currently serves on the voice faculty at Tennessee State University and artistic director of the W. Crimm Singers (aka Wakanda Chorale). 
Composer, singer, bandleader and recording artist Ted Hearne draws on a wide breadth of influences ranging across music's full terrain, to create intense, personal, and multi-dimensional works. The New York Times has praised Mr. Hearne for his "tough edge and wildness of spirit," and "topical, politically sharp-edged works." Recent and upcoming commissions include works for the San Francisco Symphony, Los Angeles Philharmonic, Eighth Blackbird, Roomful of Teeth, and more. 
unCLASSIFIED had the pleasure to speak with these three artists about LGBTQ+ representation in the classical community, allyship, and the works centering LGBTQ+ voices that inspire them. 
When did you realize a career in the arts was something you wanted to pursue? 
JH: Because I grew up in an artistic household (my dad was a commercial artist), I always thought I would go down some creative path in the arts. However, it was in high school that music completely captured my attention. My parents listened to a lot of rock and roll, so my foray into classical music surprised them. 
PD: According to my family, I started singing at age 3, so I often point to this as the beginning of that seed. It was nurtured through the arts in my community and beyond. I grew up surrounded by the sounds and presence of the Fisk Jubilee Singers, Tennessee State University's Aristocrat of Bands, Showstoppers, and Meistersingers, the Nashville Symphony, Dr. Bobby Jones and the Nashville Super Choir, and The Princely Players, among others. There were two entities in particular that sold this career for me: the Morgan State University Choir with its renowned cadre of Black countertenors and the Cook, Dixon, and Young (formally of Three Mo' Tenors) on PBS. Witnessing their performances confirmed to me that it was all possible. I heard my voice and I saw myself. It's no mistake that Black spaces and HBCUs (historically Black colleges and universities) inspired me. I fully recognize that I am a product of all my communities and villages. They showed me what I could be and never casted down limitations. In fact, they still urge me to do more and go further, affirming my full self along the way. This has guided me through my journey as an artist, educator, advocate, and human being. 
TH: I've been drawn to music for as long as I can remember, and by the time I was in high school, I was pretty committed to trying to go to music school. I knew that a career in the arts would be a difficult road, that I may need to re-evaluate and adjust as I went along, or that it might not be possible to make ends meet financially, but I felt like I would be letting myself off the hook if I didn't try.
Are there any classical works with queer representation that have particularly inspired you? 
TH: I often question the idea of what makes a "classical" work. Do the strictures that cause us to classify a work as "classical" in some ways exclude or minimize elements of non-whiteness or non-queerness? Julius Eastman's work, for instance, has been inspirational for me (I'm listening to the incredible 2018 performance of Femenine on Monday Evening Concerts as I type this), but I didn't learn about him in school, and "classical" interest in his work (outside a few select devotees) has only really cropped up in the past few years. 
The work of Taylor Mac is prophetic and extremely important to me as a sociopolitical model for music and performance going forward and as a compositional exploration of the many layers of historical context embedded in music itself. However, his work seems to be excluded from consideration in the "classical" framework despite its intricacy and political relevance (or maybe because of it). 
Annika Socolofsky's work continues to inspire me, particularly her vocal music. She talks about part of her practice as re-interpreting folk materials (melody, phrasing, texts) for a "new, queer era," and I've always seen this rich exploration of timbre and inflection as a compelling manifestation or reflection of queerness. 
PD: It's so wonderful to see more LGBTQIA+ representation in classical music, particularly opera. Works like Stonewall, As One, Fellow Travelers, Oscar, Brokeback Mountain, and more are so important to the canon. However, in my opinion, many of these works don't deal with intersectionality and diversity within the LGBTQIA+ community. I will say that I've been privileged to be a part of works that allow me to bring my whole identity to the role and production such as "Kyle," one half of a non-binary couple in Masquerade (from Robert Paterson's Three Way)and Belize in Péter Eötvös' Angels in America. With Belize being a Black, gay, former drag queen nurse, I found multiple layers and connections. I understand his joys, confidence, insecurities, and comportment in his world. It was freeing! Opera still has a long way to go with this, but the models and dare I say, the most personally inspirational work, are in theater, film, and other media. Moonlight, Choir Boy, The Hot Wing King, The Color Purple in all iterations, Pose, the Bayard Rustin musical, even artists like Rasaan Patterson and BSLADE, and so many more offer a wide range of stories and experiences from those at the margins and intersections. 
JH: YES! John Corigliano's First Symphony really had an impact on me when I was a student. I was so amazed that one could capture pain and fear so effectively with notes on a page. 
Do you feel the representation of the LGBTQ+ community in classical music right now is adequate? If not, how would you like to see it change? 
PD: There is work being done, but as always, mainstream classical music is the last to really come around to the progress society is looking to make. Interestingly, we know that many leading figures in the industry identify within the LGBTQIA+ community. However, because of its elitist nature, the representation often only goes but so far. We'll see gay representation, but mostly through white, cis-male perspectives. Among the works I listed before, only a couple center trans and non-binary experiences, and even fewer are inclusive of the intersections of race and class. Regarding change, it would be great to see intentional inclusion of diverse perspectives. This includes putting all sorts of folks at the table, ensuring that they lead, and compensating them appropriately. Moreover, aiding in the agency of artists and creatives across communities. Yes, we want them in the major spaces, but they should also be supported in their own communities. 
JH: This is an excellent question. I do think there could be more representation. I constantly hear the classical world saying that they want to be relevant to their communities, and part of that is reflecting and celebrating those communities. Young people feel much more open about sharing and celebrating who they are. It would help the classical community become more relevant if it too celebrated this aspect of life (historically, there have been a lot of LGBTQ+ composers and performers in classical music), and I think more people would feel that classical music is a relevant expression of the emotion, struggles, and joy of their own lives. 
TH: Of course, any artist can decide if they want to identify as a classical musician, and there will always be many types of voices represented at the fringes of any genre. However, I feel that the institutions which together can be seen to represent the "classical-music community" espouse values that largely reflect the values of the liberal elite class in this country. The types of representation of the LGBTQ+ community mostly fall along similar lines. 
For instance, the Marriage Equality movement succeeded in court and boasts higher support than ever, and we recently saw a seriously viable out, gay presidential candidate in a status-quo affirming white man, yet Black trans women's lives are at a great risk for murder and persecution and are among the most vulnerable group of individuals in our society today. While of course there are exceptions, I feel that queer representation in the classical community would do well to be expanded to include queer voices who serve to model as many different modes of expression and sociality as possible. The singularly unique duo of classical-adjacent musicians, The Living Earth Show, recently collaborated on an incredible project called COMMANDO, made with a collective of San Francisco-based queer and trans musicians to "aggressively celebrate queerness and dismantle heteropatriarchy." While The Living Earth Show reads notated music, sometimes plays shows in classical spaces, and has received funding from Chamber Music America, I don't think it's an accident that they needed to collaborate with musicians who would not self-identify as "classical" artists in order to make a piece like this.
Which organizations do you feel are championing Queer art/composers/artists in classical music right now? 
JH: The GenOut Chorus (cond. by C. Paul Heins) in Washington is a great example of sharing important music but being a real support system for the members of the choir, who are members of the LGBTQ+ community.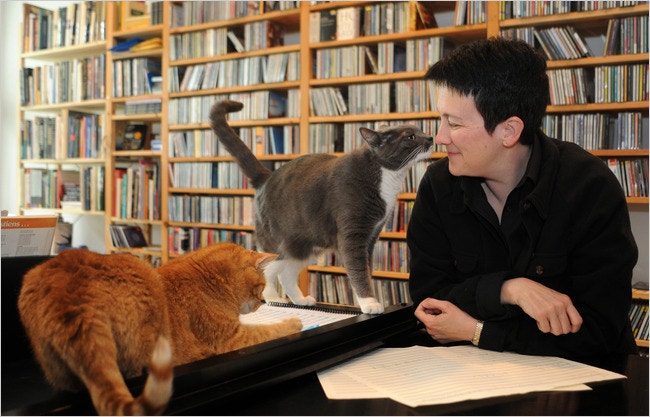 Jennifer Higdon; Photo by Sabina Louise Pierce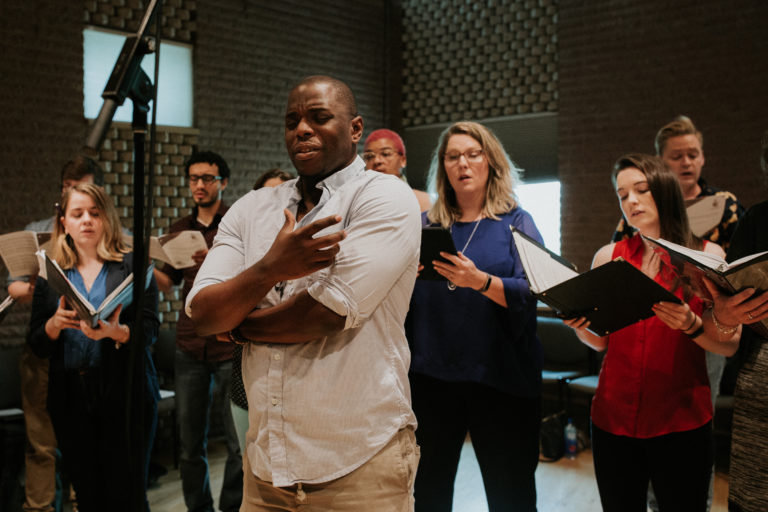 Patrick Dailey; Photo by Kara McLeland
PD: As the founder and director of the Big Blue Opera Initiatives (BBOI) at Tennessee State, I am personally working to build programming that addresses the intersections of HBCU music culture, Black music performance, and LGBTQIA+ issues in the community. At present, I serve on the board of ALIAS Chamber Ensemble, the Artistic Planning Committee of the Nashville Symphony, and am a co-founding member of Early Music City. These organizations (as well as Intersection Contemporary Music Ensemble) are committed to inclusion, representation, agency, and leadership of LGBTQIA+ and BIPOC folks in our communities and beyond. 
As someone who doesn't identify as LGBTQ+, how do you advocate as an ally in the classical community? 
TH: I think that continuing to draw attention to the boundaries which define our genre and our practice is the best way to advocate for full and liberatory queer representation in the classical community. To question the origins and impacts of any justifications we may use to identify our work as "classical" and other works as "non-classical," and to challenge any gatekeeping or cultural blind spots that may be a part of those delineations, is an essential step in diversifying the voices we hear. And why do we want that diversity? Because the freeing of gender norms and the nonbinary structures queerness models is inherently revolutionary and beckons a revolutionary mindset. We can't talk about queerness without talking about pay equity, nonheteronormative family structures, and the violence of colonialism. Our music needs this future. In other words, we should strive to make sure we don't mistake the notion of greater queer representation in classical music with a push for more queer-identifying people going to Ivy League schools or playing Mozart at Lincoln Center. 
Ted Hearne; Photo by Jen Rosenstein
What are some examples of LGBTQ+ allyship that you have witnessed specifically within the classical community? 
PD: We are seeing some awesome, important work happening in organizations like Opera America and the League of American Orchestras, as well as other larger performing arts institutions providing grants, residencies, and such to LGBTQIA+ folks. I would add that we should be careful not to pursue diversity and inclusion efforts for the primary purpose of financial gain and appearing to be "woke." We must ask ourselves what our real intentions and goals are in doing this work. 
JH: The most prominent examples are the gay choirs and bands I've worked with that I see giving voice to their communities. It's extremely difficult, no matter your orientation, to feel alone. These groups are the opposite of that! 
We are so grateful to Patrick Dailey, Jennifer Higdon, and Ted Hearne for taking the time to speak with us! Check out our unCLASSIFIED Classical Pride playlist, featuring the powerful works of LGBTQ+ composers.