Artist Spotlight: Matt Haimovitz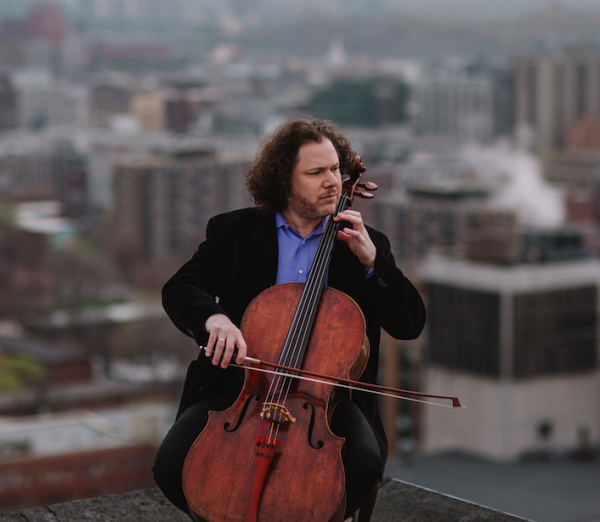 Photo Credit: Brent Calis
Matt Haimovitz is a renowned musical pioneer, best described by the New York Times as a "ferociously talented cellist who brings his megawatt sound and uncommon expressive gifts to a vast variety of styles." Matt quickly earned the reputation of a cello prodigy, making his musical debut at the young age of 13 with the Israel Philharmonic and recording with the Chicago Symphony Orchestra at age 17. Since then, he's played with the Berlin Philharmonic, New York Philharmonic, and numerous orchestras all over the world, while also incorporating many musical styles outside the realm of classical music in his artistry. Then, in 2018, Matt was named a John Cage Fellow at The New School's Mannes School of Music in New York City!
The accomplished cellist now mentors a group of pupils at McGill University's Schulich School of Music, creating an all-cello ensemble under the guise of Uccello. This group gives Matt the chance to create a truly out-of-the-ordinary musical experience for the cello, blending diverse musical genres from jazz, rock, blues, folk, and much more. Uccello's unique approach hasn't gone unnoticed, either – they secured a 2010 Grammy nomination for Best Classical Crossover Album.
What originally inspired you to play cello, and how did you decide to make a career out of it? Were there specific things along the way that motivated you to keep playing?
I was surrounded by classical music. My mother was a piano teacher so I heard hours upon hours of piano music and enjoyed accompanying her to symphony and chamber music concerts. When I heard the cello in recital — performed by the great Mstislav Rostropovich — I was entranced and mystified by the instrument and the tools involved in producing the penetrating, human sound. At first it was all about uncovering the cello's secrets all at once. Then, once I was past the initial trepidation over performing, I realized that there was a special thrill in sharing the music I was working on and discovering with others, whether it was for one visitor at home or to thousands in a concert hall. I knew early on that I would be a cellist and it took on a life of its own.
You've named your cello Matteo- that's so cool! Could you tell us a bit more about the relationship you have with your instrument?
In 30 years of playing on my Matteo Goffriller cello, I never had a name for it. How do you name a limb or extension of your body? Then we had a little accident together two years ago. The New Yorker  did a story of the rehabilitation and reunification and called it Matteo and that has stuck! It did feel right to finally name the cello and, of course, I share the maker's first name. At home, though, we like to call my cello Daphne, inspired by the story of Apollo and Daphne turning herself into a tree. I like to imagine that I can coax Daphne back to the flesh if the music is transcendent. It has been a singular honor to observe my cello's evolution over more than 30 years. We are partners for life – for my life anyway.
Your new project has a wide range of genre-bending material. Did you pioneer this single-handedly, or did the Uccello ensemble help curate this too?
The early arrangements for Uccello, Led Zeppelin's Kashmir, and Jimi Hendrix's Machine Gun, were my choices and later, the bigband treatment of the cello ensemble was in collaboration with my friend, composer David Sanford. The idea is simple: cellos are chameleon-like, our instrument can emulate any instrument and, of course, the human voice, in all shapes. We begin with a rich palette of overtones and then deconstruct and strip them away to create the various effects of electric guitar, drum set, saxophone, etc. Machine Gun is a good example of a wide range of effects all created by eight celli. There is some freedom within the ensemble to make each part one's own. The players were all my students and they have gone on to impressive careers of their own.
Along with my work with Uccello, a major inspiration and collaborator is pianist Christopher O'Riley. He has arranged a wide range of music for solo piano and now cello/piano. It is always a revelation to develop the cello parts even further to get to the heart of each idiosyncratic voice, from Thom Yorke to the electric guitar of John McLaughlin.
And finally, there are the solo cello arrangements, including a brilliant one by composer Luna Pearl Woolf that turns the Beatles' Helter Skelter into a one-man band, and my own take on Jimi Hendrix's Star-Spangled Banner from Woodstock 50 years ago.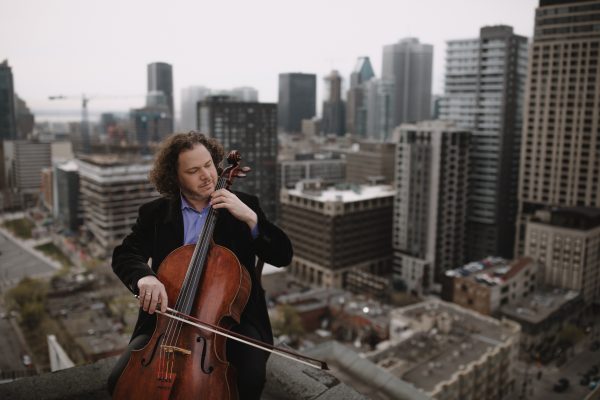 Photo Credit: Brent Calis
What was the most difficult thing about arranging these works for cello?
Transcribing some of this music requires patience. I was waiting for the birth of my first daughter when I was transcribing Machine Gun. That is an epic and complex song with a virtuosic electric guitar solo. I spent two weeks listening to the recording on Hendrix's Band of Gypsies over and over again, trying to be as faithful as possible to the original. How to notate and translate in classical terms what arose from vernacular, improvised non-notated world is a challenge. Workshopping the arrangement and sculpting it with the ensemble is the fun part.
If you could collaborate with any musical figure, whether from the past or present, who would it be and why?
J.S. Bach. I have so many questions for him. And I would love to introduce him to new technology and musical styles and see what he would do with them. And it would be a trip to jam with him.
Out of all the venues you've performed in, do you prefer the intimate settings of restaurants and nightclubs or the larger audiences of symphony halls?
Just to be clear, I avoid playing in restaurants! If you introduce food and drink, the level of noise and conversation increases exponentially and the music often is relegated to the background. I do love intimate spaces — jazz clubs, coffeehouses, abandoned buildings —any place where the music can be the focus and the walls between performer and audience are broken down. I think you can bring that chemistry to the concert halls and churches and even amphitheaters and stadiums. I mix it up now and find that going back and forth between larger theatres and smaller, unexpected spaces keeps me on my toes and the performance experience fresh.
What inspires you?
Love. Life. Beauty. Anything which makes me see and hear the world around us in a new and deeper way. Connections. Human connections over history and in the moment, connections with nature, external and collectively from within; unexpected connections across borders and boundaries and time. The immense diversity and complexity of life juxtaposed with the simplicity of little joys. Feeling like a tree reaching ever higher; flying free as a bird. Nostalgia and a brand new adventure. And passing on some ideas to the next generation and making new discoveries in the process – all of it inspiring a new perspective.
Thank you, Matt, for taking the time to talk about your new project! It was great to learn more about this performance and your involvement with Uccello!
Discover Matt Haimovit's performance, with Uccello, newest release, Cello Rock – a collection of rock covers transcribed for cello!