Adam Stein: Bar Elena & The Eleanor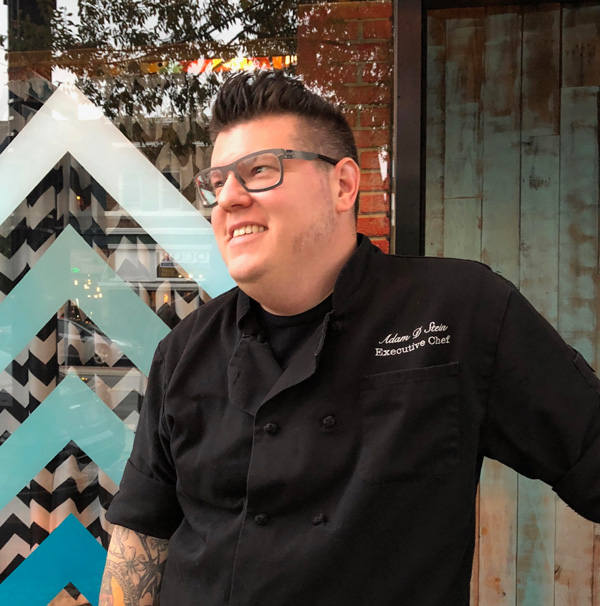 The holidays are not only about cooking, they are also synonymous with meals out! Many holiday parties will take place not in the home, but at a restaurant. Two places perfect for hosting holiday festivities (or just hanging out) are Bar Elena and The Eleanor in Washington, DC. Both trendy spots on the DC restaurant scene offer fun, seasonally-inspired fare as well as craft cocktails featuring local distillers. As if that wasn't tempting enough, each space is also furnished with pinball machines, Skee-Ball, and The Eleanor even has 2 lanes for duckpin bowling.
Truly unique in terms of Washington DC restaurant concepts, Bar Elena and The Eleanor are the creations of owner & Executive Chef, Adam Stein. With over 20 years in the restaurant industry, Adam attended Johnson & Wales University in Providence, Rhode Island and has since opened numerous restaurants as Executive Chef or Chef Consultant. That's all public record, but what some people might not know is that he used to play the saxophone and is a fan of classical music!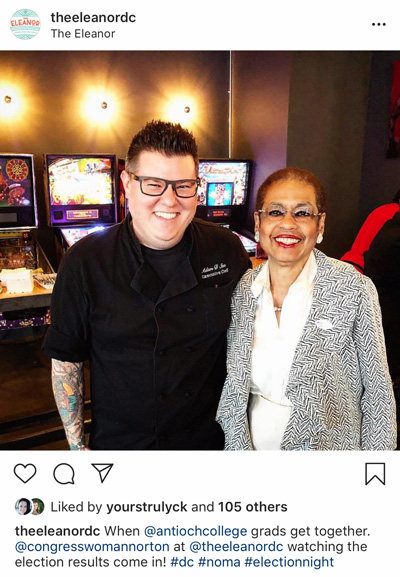 Adam drew inspiration for The Eleanor from strong women like Eleanor Roosevelt and Congresswoman Eleanor Holmes Norton (pictured).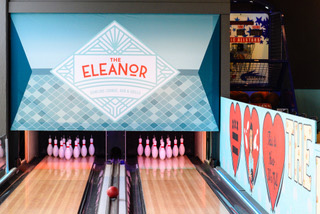 What is your favorite dish on the menu at The Eleanor?
I usually shy away from "favorite" questions. We obviously strive to put as many good dishes as we can on a menu at once. One of the dishes we have on the menu at both restaurants is the Spaghetti Sandwich. It's a simple marinara sauce with fresh, hand-cut pasta. We load it into a baguette that we slather in cold butter and top the whole thing with a ton of grated cheese. My parents both worked full time growing up and many weeknight meals were comprised of jarred tomato sauce and dried pasta. There was usually bread and butter on the table as well. I have very distinct memories of twirling pasta and stuffing it inside of dinner rolls with a pat of cold butter. Not only is it nostalgic for me, but it is also delicious. We jokingly add the last ingredient of "carbs" on the menu. It was an early popular dish at Bar Elena and people seem similarly pleased with it at The Eleanor. I think it's something most people can relate to from childhood.
What is your favorite holiday cooking memory or tradition?
For years my mother would make lasagna roll-ups and bread pudding on Christmas Eve. When I think back on the happy, quintessential family time around the holidays, I always think about those two dishes. In the last ten years or so, I usually take over the bread pudding, when mom lets me.
Do you like to listen to music when you cook?
I love music of all kinds. While I don't cook in the kitchen much anymore, for years I always had the radio, CDs or, at the time, the new-fangled iPod playing something or other. Professional cooking requires myriad repetitive tasks and the downtime prepping in between services is a great time for music, if your chef allows it!
Do you consider music an essential part of the dining experience?
I think music is a HUGE part of any food or drinking establishment. The most important aspect is to provide a foundation­–a vibe to set the tone–to let your customers know what kind of place you are, how you want them to feel. The other important aspect is not having a "dead" space. It's super uncomfortable to be around a group of people in a social setting with no music on at all.
How does music enhance your life?
My mother is a musician. She has been a flute teacher, and active community band member for as long as I can remember. She also curated musicians for public series in our hometown. I always knew how important music was to her and we grew up going to her concerts. My father is credited with introducing us to The Beatles and classical music. Ever since listening to Dvorak's New World Symphony, played to us by a music teacher in second grade, it has been my favorite piece of classical music. Largely because of my mother's influence, all of her children played instruments. I played the baritone saxophone through middle and high school. I was in the jazz band, pep band, marching band, and the symphonic band. Reading music and playing with others in a group setting was a profound thing to be a part of, and definitely effects how I listen to and enjoy music.
Do you stream music on Spotify, Apple Music, YouTube?
I use both Spotify and Apple Music.
What is the best piece of advice you can give a novice chef?
A novice chef? A novice cook? The old adage was that you had to work for about 10 years in the restaurant business before you got your first chef job. With a huge shortage of qualified restaurant workers across the country, (we're experiencing one in the DC area now) sometimes people get thrown into positions before they're ready. I know when I was given my first head chef job I was in way over my head. It was sink or swim and luckily, I made it out alive with hard work, a great team, and supportive owners. Not everyone has it so lucky.
I usually tell aspiring cooks to figure out what the coolest place is, doing the coolest food that most closely resembles what they imagine themselves wanting to do and fight to get a job there. Knock on the back door, offer to prep or even wash dishes if they don't have an open position. Anything to get onto a team doing the type of food you think you want to make. There is no better way to tell if the restaurant life is for you than by being part of a team executing at a high level. You may not have visions of grandeur–you may want to put out simple, honest food–but the commitment and teamwork needed is the same across the restaurant world.
The last thing I'd say to a new chef is to be humble. We all have to reckon with our egos from time to time, but in the hospitality business, you more often than not have to find a way to say "yes." You may end up in a restaurant and half of your menu items turn out to be duds, not what the clientele wants–too expensive, too fussy. It takes maturity to charitably evaluate your product and be honest with yourself. Unless you own that restaurant 100% outright, which is extremely rare, you're always going to have to make several people happy as well as yourself. There's no shame in reevaluating and reinventing yourself on the fly. The best restaurants change with the times. The last, last, thing I'd say is to treat people with respect. I have some cooks, chefs, and managers that I've worked with for ten years. I'd like to think that one of the reasons they stick with me is loyalty born out of mutual respect. No one does this alone and treating people with respect and acknowledging how hard this work is goes a long way in creating a team that pulls together. In an industry where just getting people to show up for work can be a headache: hang onto those certain people. People are the most valuable asset in running any restaurant.

Check out this DC holiday-inspired cocktail recipe from Chef Adam!
When the family gets together for one of the fall/winter holidays, my brother, sister and I usually end up batching a whisky cocktail for all of us. We usually stick with bourbon or rye. With a renaissance of brewers and distillers in the DMV area at the moment, we have a great group of folks whose products I try to use.
Here is a take on a boulevardier—perfect for the holidays!
1.25 oz Copper Fox Rye, from Sperryville, VA
1.25 oz Capitoline Tiber, from DC (Or an Italian aperitivo, like Campari)
1.25 oz Don Ciccio, Amaro delle Sirene, from DC (or use another amaro or sweet vermouth for a less bitter cocktail)
1 splash Lemon soda (like a San Pellegrino, etc.)
Fill a tumbler with ice and combine all three spirits. Stir for a good 30 seconds. In a rocks glass, drop in a few cranberries, if you have to happen to have them lying around, and crush gently. Fill the rocks glass with ice and strain the tumbler's chilled contents over the fresh ice. Top with a splash of lemon soda. With a knife or peeler, cut a strip of orange zest, squeeze over the top of your beverage and run it around the inside lip of the glass, drop on top for additional garnish and enjoy!