Nashville Ballet: Benjamin Wetzel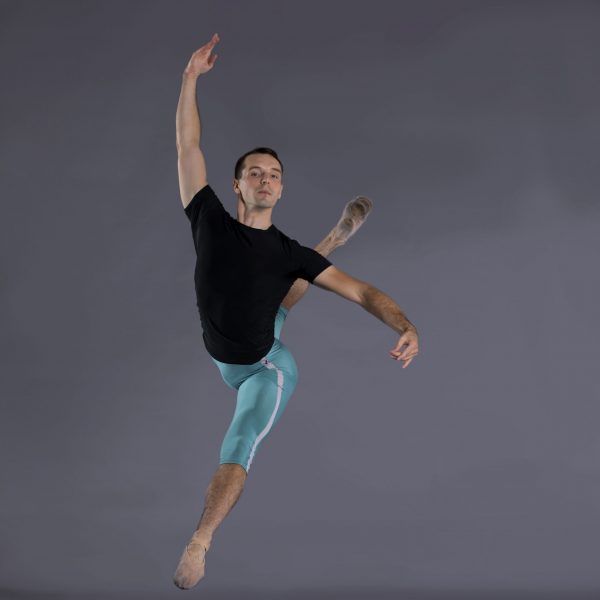 This spring's Modern Masters series from Nashville Ballet, premiering April 26 – 28, spotlights ballets that have challenged the bounds of the art form through unique ideas and intriguing collaborations. This production features four striking works: 'The Ben Folds Project: Concerto', with music from pianist and singer-songwriter Ben Folds and choreography by Nashville Ballet Artistic Director Paul Vasterling, 'Bloom', with music from composer Philip Glass and choreography by Annabelle Lopez Ochoa, 'Duo Concertant', with music from Igor Stravinsky and choreography from George Balanchine, and 'The Lottery', inspired by the Shirley Jackson short story with music by Robert Moran and choreography from Val Caniparoli.
To top it all off, Nashville Symphony will be performing alongside these amazing dancers, and Ben Folds will appear as a soloist for the 'The Ben Folds Project' ballet!
In this production, Benjamin Wetzel is cast in 'The Lottery' as well as 'Bloom'. It's his first season with Nashville Ballet, and he's already off to a flying start! We had the chance to catch up with him to learn more about his role in these productions, as well as his budding career as a dancer!
Congratulations on your first season with Nashville Ballet! What was it like transitioning from Louisville Ballet, and what sorts of challenges and learning opportunities were presented along the way?
Thank you! I'm thrilled to be here. Every company I've worked for as a professional dancer has operated differently. By and large, that's been the most intriguing part of transitioning from one company to another- I've enjoyed figuring out how Nashville Ballet runs rehearsals, what kinds of repertoire we perform, what we look for in our dancers, how we engage with our community, and, perhaps most importantly, how I fit in to the role of a dancer within the company.
What do you find is the most thrilling (or scariest) aspect of the onstage game of chance in 'The Lottery' ballet?
Well, the obvious answer is that you never know if you're going to dance the solo at the end of the piece! Dancers like to plan exactly what they're going to do onstage, so participating in a lottery and leaving so much up to chance takes us out of our comfort zones. Furthermore, the solo requires a staggering amount of energy, nerve, focus, and commitment, and every one of the dancers must be prepared to deliver these when the time comes.
'Bloom' combines ancient traditions and writings with music from Philip Glass in a strangely majestic way. What is your favorite aspect of this production?
I've come to appreciate that the pas de deux from 'Bloom' works artistically on several levels. Is it a simple love story? Is it about a flower and her keeper? A tale of seduction, power, and escape? Perhaps it's about cultural norms and expectations of gender expression? It's a bit of everything, and what's also beautiful is that the viewer can imbue the work with their own meaning however they see fit.
Check out this video of Benjamin talking about this piece!
What initially motivated you to pursue a career in ballet and dance?
I started dancing at the relatively late age of 16 by way of musical theater. I started taking dance classes to stay competitive in the industry, but the more dance classes I took, the more that ballet grew to be a bona fide obsession. On the whole, musical theater began to bore me, so I made the decision to pursue a career as a ballet dancer, and the rest is history. I've been very fortunate.
Did you have any experience with classical music prior to your involvement with ballet and dance?
Though musical theater falls distinctly outside the realm of "classical music," I did take classical voice lessons for about eight years starting in my teens in order to train for a career in musical theater. Apart from this, I sang in a youth choir for about ten years, played the saxophone and the trumpet, and took a semester of college-level music theory. So, I wouldn't say classical music is completely foreign to me. Incidentally, we listened to a lot of classical music growing up. My parents like to remind me that as a kid, whenever they would play 'Winter' from Vivaldi's iconic The Four Seasons, I would frenetically spin around the living room, dancing, throwing marbles, and making myself dizzy in a flurry of my own winter-storm energy.
Outside of your dancing career, what types of music do you listen to? Do you find that you listen to different types of music depending on what you're doing at any given moment?
I can listen to and appreciate almost all kinds of music, but at the end of a long day of dancing and teaching, I find myself craving silence, or at least not wanting to hear any more music! I often listen to NPR, and I have a real soft spot for murder-mystery audio-books! I'm currently listening to Agatha Christie's 'At Bertram's Hotel'.
Individuals with discipline inspire me. Too often we sensationalize success as a wondrous feat of large-part luck and (maybe) small-part work. Too seldom do we celebrate the hours of disciplined work that go into success. Everyone wants to hear about the natural-born genius, but nobody wants to hear about the self-made genius. When I recognize that someone has the tenacity to go about their work with discipline, despite the work being perhaps unappreciated or unrecognized, I become invigorated.
Thank you, Benjamin, for taking the time to talk with us! It was great to go behind-the-scenes on the performance of these fascinating ballets, and we're excited to see you grow in your role at the Nashville Ballet!