Nevertheless, She Persisted – Part I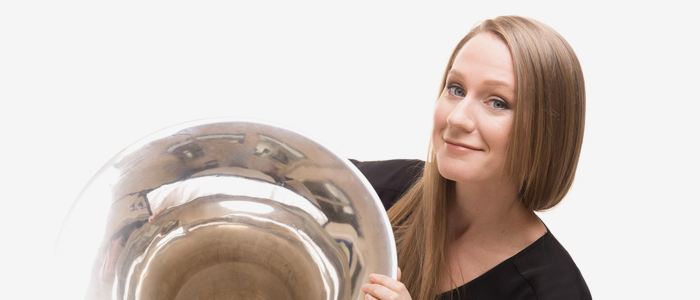 On the occasion of International Women's Day (March 8) and Women's History Month, we thought it would be both fitting and important to recognize not only the extraordinary women before us who paved the way, but also to celebrate those among us who continue to break down barriers, persevere, and inspire us with their strength.
Strength comes in all forms, and when it comes to the classical music world, it would be silly not to mention Carol Jantsch, Principal Tuba of the Philadelphia Orchestra; a position she won during her senior year of undergrad at the University of Michigan.  For those new to classical music or not in the know, winning any job in a professional orchestra is highly competitive; similar to getting drafted into the NFL or NBA.
Carol recently recorded Reflections on the Mississippi, a musical voyage down the legendary Mississippi River from Iowa to Louisiana, written by GRAMMY-winning composer, Michael Daugherty.
Here's what Carol had to say about her new recording, life as the first female tuba player in a major symphony orchestra, and what it means to play like a girl.
What made you want to play the tuba?
CJ:  It's hard to say what motivates a nine-year-old kid to do anything, but I do remember that I didn't want to play a "normal" instrument:  Violin?  Clarinet?  Trumpet?  Too popular, no thanks.  Euphonium?  What's that?  Sign me up!  I graduated to tuba when I was about 12.  In hindsight, I wonder if I've always been attracted to deep, rich, low sounds or if that developed from playing tuba for so long—it's a chicken-or-the-egg question!

You've chosen a couple of tracks from your latest recording to feature on our Women of Classical playlist.  Can you tell us a little bit about the piece, what it means to you, and why you've selected these tracks?
CJ:  I had a lot of fun working closely with Michael Daugherty on developing this concerto.  I think he does a fabulous job of featuring both the beautiful melodic and agile technical capabilities of the tuba, all in a package that's accessible and enjoyable for the listener.  The third movement is an ode to Michael's father and is particularly gorgeous; and I love the New Orleans-inspired funky bass lines of the fourth movement.
What did you do to prepare for the performance and recording of this piece (besides countless hours of practice!)?  How did you find a way to connect with the music?
CJ:  I feel lucky that Michael is such a collaborative composer.  I was there from the beginning; from ideological conversations before a note was written to about half a dozen road trips to his studio in Ann Arbor.  We would workshop ideas and negotiate repetitions for 6-hour chop-busting sessions, which was very intense, but the payoff of the result was well worth it!  So connecting with a piece whose creation I witnessed, a piece that is written so well and in some ways tailor-made for me personally, is not very difficult!
Who are some important women that have inspired or paved the way for you (musician or otherwise)?
CJ:  My mom worked hard and sacrificed a lot to raise me and my brother.  I admire the fact that she pursued graduate degrees while we were in grade school.  She instilled a diligent work ethic in me and always supported my musical career, even when it meant carrying tubas around, driving long distances to boarding school, or tagging along to tuba conferences.  She's an awesome voice teacher at Swarthmore College, and I definitely wouldn't be where I am today without her.
What advice would you give young girls interested in pursuing the study of classical music?
CJ:  The advice I would give any young person is to work hard and practice smart. Talent isn't some magical voodoo you're born with; it's developed in the practice room by solving problems creatively and ingraining good habits.
What advice would you give people who are interested in listening to classical music but don't know where to start?
I think movie soundtracks are the gateway drug to classical music. Go re-watch Star Wars and pay more attention to the orchestra and how it really amplifies the emotions underlying the film.  Then maybe when you listen to Holst's The Planets, you can let your imagination stir up the images, feelings, and stories that you think the piece inspires.  Also, go see live music, and sit close. Witnessing the weird things people do to make sounds at a superb level in real time is particularly impressive.
Thanks for your time, Carol!  Stay tuned for Part II where we'll be talking to Amy Porter; another strong female making waves in the classical music world!