Nevertheless, She Persisted – Part III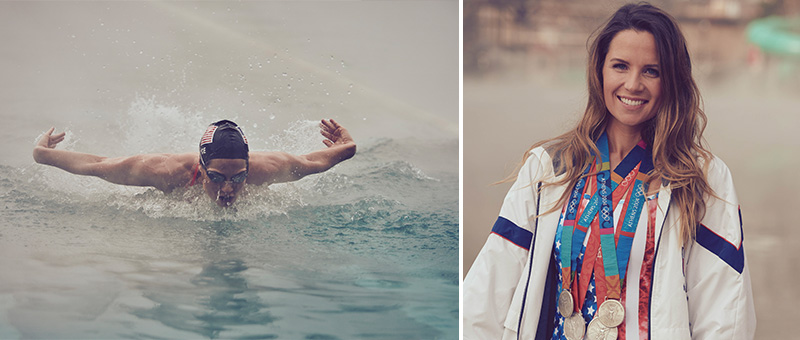 By now, you've probably figured out that unCLASSIFIED is all about classical music; its discovery, performance, but above all else, its appreciation and enjoyment.  For the first two weeks of Women's History Month, we've highlighted some strong women making waves in the classical music world as both creators and performers.  For the next two weeks, we will get to know some other strong ladies in the classical music community:  the listener.
There is no doubt that this week's listener is both strong and making waves (literally).  Olympic swimmer Kara Lynn Joyce has 18 NCAA championships under her belt (the all-time record for any athlete, male or female, any sport, is 19), not to mention four Olympic medals from three Olympic Games, and is the founder of LEAD (Leadership, Empowerment & Athletic Development); a yearly summit that connects young female swimmers with Olympic champions and specialists throughout a 4-day all-inclusive event.  She also happens to be a fan of classical music!  Read on to hear this champion's thoughts about sports, music, and empowering girls everywhere!
How do you like to interact with classical music?
KLJ:  I've actually been exposed to classical music since I was a little kid.  I have fond memories of waking up on Sunday mornings to my mom cooking breakfast and blasting Mozart, Yo-Yo Ma, and Vivaldi's Four Seasons, among others.  During college I would listen to classical music while studying (because I heard it was good for the brain and I needed all the help I could get)!
Are there any similarities you can draw between classical music and sports performance?
KLJ:  I think you could time some great pieces of classical music to swim races.  There is the light introduction as the race starts, a build-up in the middle of the race when the leaders start to show, then a dramatic finish and celebration at the end.
What is your favorite track on our Music for Empowerment playlist and why?
KLJ:  Violin Concerto No: 3 III. Vivo by Grazyna Bacewicz.  I love the intro to this piece and have an affinity for the flute and piccolo since that's what I played!

How do you think hobbies or careers like athletics and music can be empowering for young girls?
KLJ:  Anytime we can encourage young girls to follow their passions and hobbies, whether it's athletics, music, theater, we are teaching them how to be a part of a team and something bigger than themselves.  They learn how to contribute and learn about what their strengths and weaknesses are as individuals.  They also experience high-highs and low-lows and learn how to overcome failure and push towards success.  These skills are imperative for girls to learn at a young age and will only help them with their careers once they have retired from their sport or hobby and move onto a professional life.
As the founder of LEAD, what is the one message you want to communicate to young girls everywhere?
KLJ:  I hope every girl that attends LEAD realizes that they are capable of amazing things.  Life is about setting goals and chasing dreams, and whether your dreams are in academics, music, athletics, family – whatever it is, set goals and work towards those goals every single day.  Attendees will see that some of the most accomplished women in sports have hit rock bottom and, at some point, they have failed, they have fallen, but they have all picked themselves back up and continued to push forward.  Being great doesn't mean you were born great or have immense talent, it just means you weren't willing up give up when things became hard.
Who are some strong women who have inspired you?
KLJ:  I have so many amazing women in my life that inspire me every day.  Missy Franklin is ten years younger than me and almost like a little sister, but I look up to her as one of the strongest women I've ever met.  Summer Sanders (1992 Olympian) was my hero growing up.  She never gave up as an athlete, and when she retired, she made sure to help those that came after her (like me)!  I also look up to Michelle Obama for her integrity, class, and constant pursuit to be the best version of herself.
Thank you, Kara!  It is awesome to see such strong women who are continuing to both pave the way and empower future generations—and it's just icing on the cake that she is also an avid supporter of the performing arts!