The Mighty Mouse King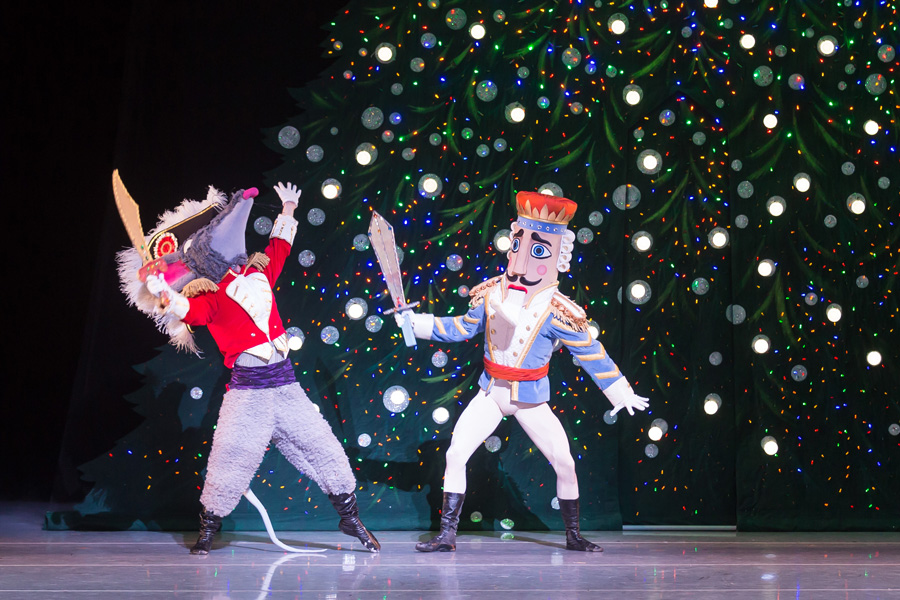 The Nutcracker versus Mouse King: one of the greatest rivalries of all time—a true test of good versus evil. Unfortunately, as the story goes, things don't end well for the Mouse King. However, he remains one of the most memorable characters in any production of The Nutcracker. It is NB2 artist Addison Goodwin who has the distinct honor of being cast as Nashville Ballet's Mouse King. Addison started dancing at the late age of 17 in his home state of Maine with the Portland Ballet before moving to New York City to study at the prestigious Joffrey Ballet School. After numerous principal roles in various productions, as well as a guest role with Cleveland Ballet in their debut performance of Coppélia, Addison joined the NB2 program with the Nashville Ballet.
NB2 (Nashville Ballet's official second company) is a unique program that offers promising young dancers the opportunity to perform and take classes alongside the Nashville Ballet as well as apply their dance experience toward earning a Bachelor's degree from Nashville's Belmont University.
What is your favorite ballet to perform?
One of my favorite ballets that I've performed is Gerald Arpino's Birthday Variations. It's a charming, celebratory ballet with seven quick sections that are all about love, springtime, and the joy of dancing.
What is your favorite piece of ballet music?
Some of my favorite music I've ever seen danced to is Erik Satie's Gnossiennes and Gymnopédies, from Frederick Ashton's Monotones I and II. The haunting and atmospheric music evokes the intentional and powerful movement of heavenly bodies. It calms your heartbeat the moment it starts. It is simple, calm, and understated, but something that has never left my memory since the first time I heard it.
Is there a particular piece in that ballet which speaks to you artistically?
Monotones II, set to the Gymnopédies is so hypnotizing. It is danced in an unbroken adagio—the dancers move with a slowness and precision that is evocative of astronauts walking in space, making long, deliberate, and unbroken lines. Neither the music nor the dance overwhelm one another. I love that.
Do you find certain pieces of music more difficult to dance to than others?
A good ballet master can help you work through any tricky music, but music that has no clear counts or any musical accents can be especially tricky to dance to.
Is there a particular piece of music that has not yet been choreographed to which you would like to dance?
I think it's awesome when dance is set to popular music! I think it can make dance so accessible to people who otherwise wouldn't be interested. We've had ballets made to the music of Prince and The Rolling Stones, for example. Can you imagine a ballet set to ABBA??
What is the difference between dancing to recorded music versus live music?
Dancers feed off the energy of the musicians when they are dancing with live music. Sometimes listening to a track you can fall into a routine, but with live music you can never close your ears off. When you have live music you are dancing WITH the music instead of dancing TO it!
Did you have any experience with classical music prior to your involvement with ballet and dance?
I sang in honors choir when I was in high school until I started dancing.
Do you stream on Spotify, Apple Music, YouTube, etc (we are always curious!)?
I could never be without my Spotify Premium!
What inspires you?
The people I work and dance with everyday inspire me! Also, there's no better way to get inspired than to immerse oneself in a lot of art and dance!
Make the most of your holiday season and be sure to catch a performance of The Nutcracker in your community before the curtains close! The Nashville Ballet production will be at Tennessee Performing Arts Center through December 23!