The Bell of the Ball: Greta Matthies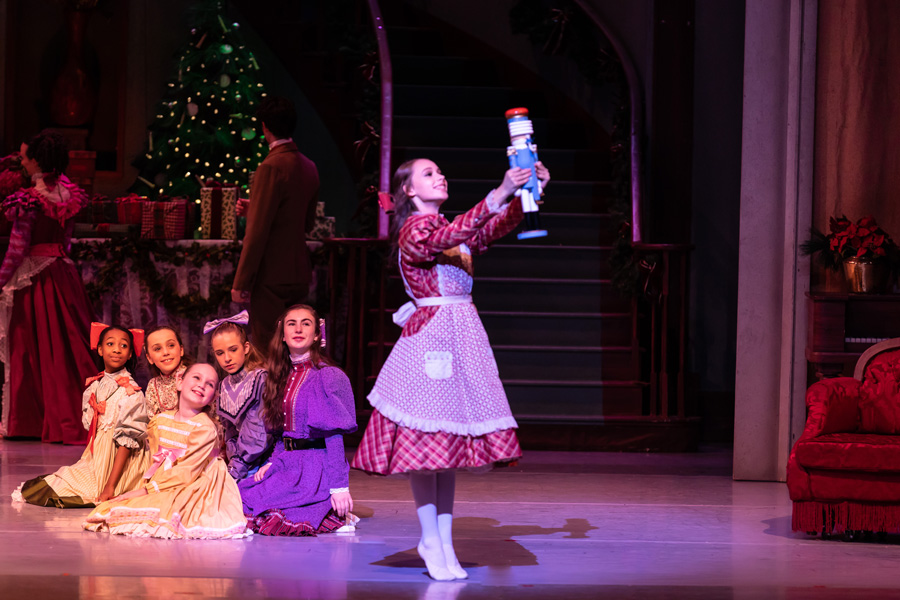 It's pretty much impossible to talk about ballet without talking about the music. It's almost as impossible to talk about The Nutcracker without talking about the character of Clara! Sometimes known as Marie in other productions, Clara is the main character and daughter of The Stahlbaums, hosts of the Christmas Eve party that really kicks things off for our protagonist. At the party, Clara receives a nutcracker doll from Drosselmeyer. Once the guests depart and the family retires for the evening, Clara sneaks downstairs to find that her nutcracker doll has become enchanted. After an epic battle between the Nutcracker Prince and the doomed Mouse King (see below), the Nutcracker Prince whisks Clara away through an enchanted winter wonderland to the magical Kingdom of the Sugar Plum Fairy.
Since Clara is such a critical part of any Nutcracker experience, we thought it only fitting to go straight to the source. Greta Matthies is the lucky (and talented) School of Nashville Ballet student that has been cast in Nashville Ballet's 2018 production of The Nutcracker.  Even though she is only 15, she's been dancing and singing since she was three!
What is your favorite ballet to perform?
My favorite ballet to perform is probably The Nutcracker because it is an important Christmas tradition that everyone enjoys watching. It allows me to be expressive in acting as well as dancing. Also, Tchaikovsky's music is very beautiful.
What is your favorite piece of ballet music?
I really love the Swan Lake musical score because it is very dramatic and moving, especially when played with a live orchestra.
Is there a particular piece in that ballet which speaks to you artistically?
The corps swan dance in Swan Lake really speaks to me artistically because it allows me to be expressive and emotional. I love dancing that piece because I can get into my character as a swan and learn to be expressive as an individual, but still dance in complete sync with my fellow dancers.
Do you find certain pieces of music more difficult to dance to than others?
Yes, I think that it is harder to dance to music that has difficult counts or beats to follow, but at the same time those kind of dances can be really interesting.
Is there a particular piece of music that has not yet been choreographed to which you would like to dance?
I do not have any specific pieces of music in mind, but I think it would be really interesting to do a dance with classical music that added in more contemporary songs or beats (we have a few suggestions!!!).
What is the difference between dancing to recorded music versus live music?
Live music is a huge privilege. It is amazing to dance to because it inspires a more emotional performance due to the fact that you can really feel the music. Yet, it can be harder because it can be less consistent than the recorded music—sometimes faster or slower than the tracks you rehearse with.
Did you have any experience with classical music prior to your involvement with ballet and dance?
Yes! My dad plays the cello and my mom plays piano, so I grew up in a very musical family that loves to listen to classical music!
Do you stream on Spotify, Apple Music, YouTube, etc (we are always curious!)?
I do stream music often, especially on Spotify and Youtube.
What inspires you?
My teachers definitely inspire me to do the best I can—whether for shows or just in class—thanks to their constant encouragement. Also, the company members and dancers in higher levels are very inspirational. It's really amazing to be able to work with and learn from them.