Summer Road Trip:  Meet Claire Brazeau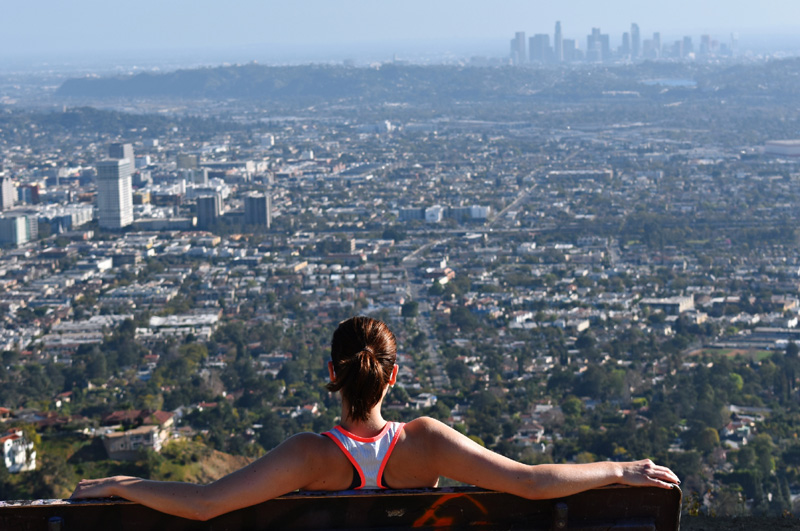 We are still soaking up the sun in LA!  Walks down the Venice Beach Boardwalk, hanging out at Santa Monica Pier, and cruising down the Pacific Coast Highway are just a few of our favorite ways to enjoy Los Angeles.  We also had a chance to hang out with Claire Brazeau, Principal Oboe of the Los Angeles Chamber Orchestra.
But her talents don't stop there.  Claire not only double, but TRIPLE-majored at the Bard College and Conservatory where she earned a Bachelor of Arts in East-Asian studies and piano performance, and a Bachelor of Music in oboe performance.  After graduation, she headed west to pursue an Artist Diploma from the prestigious Colburn School in Los Angeles.
Claire joined the Los Angeles Chamber Orchestra in 2014 as Second Chair Oboe, eventually taking over as Principal Oboe in 2016.  She can be heard on several film and TV soundtrack recordings, and performs with various orchestras and ensembles throughout Southern California including the new music ensemble, wild Up.
Keep reading to see how Claire spends her time in LA and where you can find her when she's not stuck in traffic, practicing, or eating poke!
Hello!  I am Claire Brazeau and here are 28 things you didn't know about me:
1.  I live in Los Angeles, California.
2.  My favorite thing about LA is the vibe.  
3.  My friends might describe me as chill (for an oboist).
4.  If I didn't do music for a living, I'd probably sleep more.
5.  Food is my greatest motivator.
6.  My greatest professional achievement so far is landing Principal Oboe in the LA Chamber Orchestra.
7.  Malala Yousafzai is my hero.  She's a prominent activist for girls' education, and is the youngest recipient of the Nobel Peace Prize.  Her memoir "I Am Malala: The Girl Who Stood Up for Education and Was Shot by the Taliban" is an emotionally arresting account of her bravery.
8.  If I could have one super power it would be time manipulation.
9.  A lifetime highlight of mine was the formative year I spent as a Visiting Artist at the American Academy in Rome, Italy.  
10.  I like classical music because it heals me.
11.  My favorite way to enjoy classical music is my favorite way to enjoy a lot of things:  at an outdoor venue with a spread of snacks.  
12.  My favorite composer is Igor Stravinsky.
13.  Composer Spotlight is my favorite unCLASSIFIED playlist because this month features Kaija Saariaho.  I've been meaning to get to know her music better.
14.  The last concert I attended was Jon Brion's show at Largo in Hollywood.  He is a Los Angeles singer, songwriter, multi-instrumentalist, and has written the scores for some of my favorite quirky movies like Punch-Drunk Love and more recently Ladybird.  My violinist friend Paul Cartright played the show with him (thanks to Paul for the bragging rights)!  Paul and I played with Jon in the live-orchestra screening of Punch-Drunk Love a few years ago and that's when I started getting into Jon's music.
15.  My favorite local concert venue for classical music is Royce Hall because I love its warm acoustics and snacks.  
16.  The weirdest concert I performed in recently was probably a new music show that involved hot pink vibrators on the strings of a grand piano.  
17.  My favorite post-concert hang is at Wurstküche!  Beer and sausages are the way to my heart.
18.  I split my time between practicing, driving, performing, teaching, driving, recording for movies/tv, making oboe reeds, driving, exercising/hiking, planning life, driving, and sleeping.  Did I mention driving?
19.  I spend a lot of my evenings in rehearsals or concerts, but if I have a night off I love to get out and go to shows.  On Monday nights in my neighborhood there is live bluegrass at a divey cantina played by the best of the best studio musicians.  It's amazing.
20.  My favorite hang is at Clifton's Republic in downtown.  It's a historic venue, with different themed bars on each of the three levels, equipped with taxidermy and burlesque shows.  I usually end up dancing to the live swing band in the Brookdale Ballroom in between sipping yummy cocktails.  Vintage attire is encouraged 🙂
21.  My favorite restaurant in Los Angeles is El Compadre in Echo Park.  Live mariachi band and flaming margaritas.  Need I say more?
22.  I love to go on camping and hiking trips in California.
23.  My favorite food is poke.
24.  My favorite TV show is Game of Thrones.  
25.  Amelie is my favorite movie.
26.  I could not survive without poke.
27.  One thing people don't know about me is that I hate cilantro.
28.  My favorite neighborhood coffee/brunch spot is called Basecamp.  It manages to attract both hipsters and cowboys and Jane Goodall.

LA has been a blast, but we are itching to hit the road.  Queue up your favorite unCLASSIFIED playlist and grab some snacks for the road because this road trip is far from over!  Until next time!
For more video clips and other shenanigans by Claire, find her on social media!