Summer Road Trip:  Welcome to Seattle!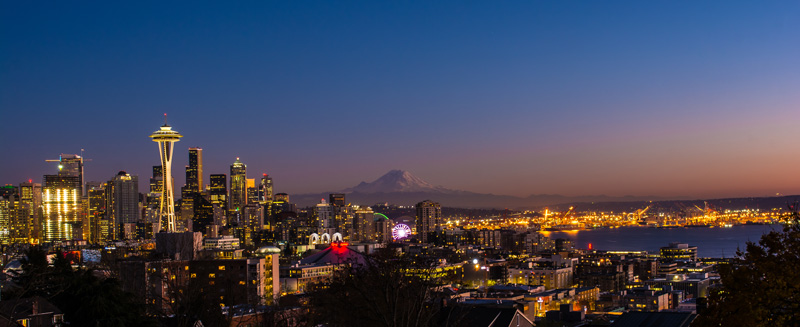 unCLASSIFIED is kicking off an epic summer road trip across the US!  We want to introduce you to some of the best cities, music, food, and people around!  First stop: Seattle.  Nicknamed The Emerald City and home to the iconic Space Needle and Starbucks empire, Seattle is the largest city in the Pacific Northwest region of the United States.  It's also home to the internationally acclaimed Seattle Symphony;
"…heard from September through July by more than 500,000 people through live performances and radio broadcasts.  It performs in one of the finest modern concert halls in the world — the acoustically superb Benaroya Hall — in downtown Seattle.  Its extensive education and community engagement programs reach over 65,000 children and adults each year.  The Seattle Symphony has a deep commitment to new music, commissioning many works by living composers each season.  The orchestra has made nearly 150 recordings and has received three Grammy Awards, 23 Grammy nominations, two Emmy Awards and numerous other accolades."
Near the back of the orchestra, on the end of a row of 6 French horns is Danielle Kuhlmann.  A native Seattleite, Danielle moved back home after a Juilliard education, NYC freelance career, and a three year stint in the San Diego Symphony.  She's also a founding member of French horn quartet Genghis Barbie; the leading post post-feminist all-female horn experience.  She was nice enough to share a little bit about her life as a musician in Seattle with us!  Keep reading to find out more!
One thing we really want to know:  does Seattle really have the world's best coffee???
Hello!  I am Danielle Kuhlmann (aka Velvet Barbie) and here are 28 things you didn't know about me:
1.  I live in a tiny house on Beacon Hill, Seattle, WA, US, Earth.
2.  My favorite thing about Seattle is the mountains, lakes, and trees.
3.  My friends would describe me as an outgoing and creative weirdo (I hope…?)
4.  If I didn't play in a symphony for a living, I would probably work in arts education and outreach.  Or become a professional (in the eyes of my mom, at least) food blogger.
5.  The quest for human connection is my greatest motivator.
6.  My greatest professional achievement so far was singing at Amateur Night at the Apollo and not getting booed off stage.  Also getting a job in my hometown orchestra, but let's be real…
7.  Beyoncé is my hero.
8.  If I could have one super power it would be teleportation (I hate waiting!).
9.  Playing my horn atop Mt. Pilatus in Switzerland, and recording a professional jingle as a singer were lifetime highlights (these were both life goals that I realized!  Still working on singing on a Disney soundtrack, learning Russian fluently, and meeting Kurt Vonnegut — missed the boat on that one!).
10.  I like classical music because it's one of the only large-scale human activities that is purely constructive.
11.  My favorite way to enjoy classical music is playing it with friends for an audience.
12.  My favorite composer is probably Brahms, Strauss, and Mahler, because I am a horn player, but I have a serious soft spot for Benjamin Britten.
13.  Need to Know: Women of Classical is my favorite unCLASSIFIED playlist because it's badass to highlight the women of our industry who have found success despite the everyday societal barriers to self-confidence and self-promotion that often squash a girl's dreams.  Rock on, classical women!
14.  The last concert I attended was San Diego Symphony playing Brahms Symphony No. 2 (see? I love Brahms).
15.  My favorite local venue to perform in is Benaroya Hall!  It's exquisite.  We are so fortunate.
16.  The weirdest concert I ever participated in was the performance of a large-scale work where a composer had "transcribed" famous speeches–by orators from Martin Luther King, Jr. to Adolf Hitler–into hand-clapping.  Like, only hand-clapping.  As in, 20 or so people clapping in unison (or rather, attempting to).  It was atrocious and over an hour long and we performed it for a horribly disappointed and bored audience at the Cuban Cultural Center in NYC.  I still don't understand why or how this happened but I got paid $100 to clap for an hour.
17.  My favorite post-concert hang is my living room lol.  Otherwise, I like Lecosho for their late-night food service or Rob Roy for their self-described "pre-prohibition ice techniques."
18.  I spend most of my time organizing things I need to get done but then not doing them.
19.  I spend my evenings cooking, then eating it!
20.  On the weekends you can find me working….???  But otherwise gardening, cooking, biking down to Lake Washington to sit in the sun and stare at Mt. Rainier.
21.  Slate or Elm are the best places in Seattle for coffee!  Or my house, where I am currently cold-brewing a huge pitcher using a blend of beans and then drinking it hot.
22.  My favorite restaurant in Seattle is probably Geraldine's Counter, which has the absolute best breakfast ever, or Portage Bay Cafe, which also has the best breakfast ever, in a different way.  I like breakfast.
23.  I like to sing Madonna's La Isla Bonita at karaoke and work the room if the mic is wireless.  Otherwise, I am singing Suddenly Seymour as a duet with Seattle Symphony 3rd Horn, John Turman.
24.  My favorite food is mac n' cheese, without a DOUBT.
25.  My favorite TV show is The Wire, obviously.  Although, My So-Called Life probably had a bigger impact on my life as a whole.
26.  The Nightmare Before Christmas is my favorite movie.  I know every word.  Like, every single word. With inflections.
27.  I could not survive without mac n' cheese.  Didn't we already discuss this?
28.  One thing people would never guess about me is that I am legitimately afraid of the dark.

We are not done with Seattle yet!  Stay tuned because we have more exploring to do before we head out to our next destination.  So buckle your seatbelt and crank up the volume on our Summer Road Trip playlist!