Lara Downes: Holes In The Sky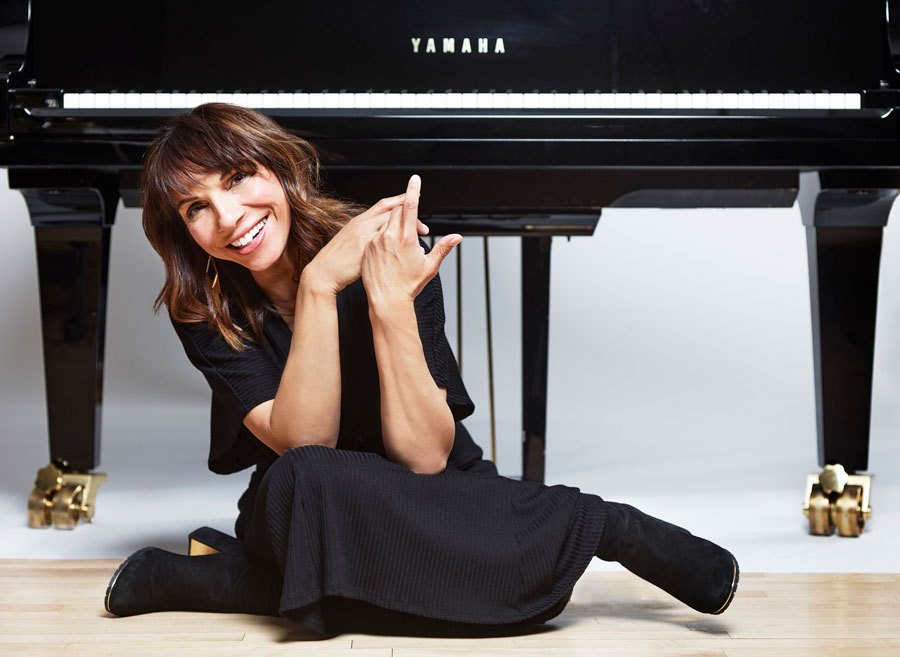 In a world in which so many women are doing phenomenal things, whose story is worth telling? Enter Lara Downes. This outstanding pianist and activist from California is using her music for good. Her latest album, Holes in the Sky, features a literal cadre of women in music—past, present, and even future. From classical composers like Florence Beatrice Price to Billie Holiday and Joni Mitchell; performances from musical heavyweight Rhiannon Giddens and the legendary Judy Collins, and even a touching collaboration with Ifetayo Ali-Landing and The Girls of Musicality—there is literally something—if not many things—for everyone. If that isn't enticing enough, the album is presented in support of PLAN International Because I Am A Girl, supporting the rights and empowerment of girls and young women around the globe, and Women's Empowerment, ending homelessness one woman – and one family – at a time.
We were lucky enough to grab a few moments of Lara's time to chat more about her latest project!
The title of your album is taken from a Georgia O'Keeffe quote, but what gave you the idea to reach out to all of these amazing women in music for a project of this size and scope?
Everything kind of snowballed! This whole concept first began around my collaboration with Rhiannon Giddens, who is a kindred spirit and, of course, a brilliant musician and just someone who really inspires me to do and to dare. The two of us were in the studio working together on a previous recording of mine and started having so many ideas about music we wanted to try together—music by women! Florence Price and Margaret Bonds—two African-American female composers who were writing in the 30s and 40s, really breaking boundaries and creating new sounds and ideas. It's music that speaks very deeply to both of us because of our own creative and cultural passions. And from there, I started thinking about the music that exists in this world because of women who came before us, and women here and now, and also women who are coming up in the next generations—all the women who dream big and make their own paths and yes, make holes in the sky. It brought me right up against that Georgia O'Keeffe quote that I'd read some years ago: "music that makes holes in the sky"—the idea of opening up the sky with the power of creativity. Infinite!
So I started thinking about the women I know who do that, who blow up the sky with their creativity—women who inspire me. And before I knew it, this incredible constellation of women had come together to make holes in the sky!
"I want real things—live people to take hold of—to see—and talk to—music that makes holes in the sky—I want to love as hard as I can." – Georgia O'Keeffe
When did you initially have the idea for the album?  How long did this project take to come together?
I guess that was all about a year and a half ago. It has been a fast and wild ride! But you know, when I have an idea, I jump in feet first. I'm kind of a weird mix of impulsive and obsessive, so once I'm in, I'm all in. I just fall madly in love with my projects! And I wouldn't have it any other way. I've really always followed my heart and my instincts, and so far I think that has served me very well.
 You have put together an amazing roster of female musicians—past, present, and even future.  How did you manage to reach out to all of them and get them onboard with the project?
Oh it was here and there, honestly! Some of these artists are old friends; some are members of a mutual admiration society, but new collaborators; some were connected to me via this weird virtual digital world we live in now, where Instagram can create relationships. And then there's Judy Collins, who is literally a legend and a goddess and I just gathered together all my courage and wrote to her out of the blue—and by some miracle of some definitely female god, she answered me!
You've struck up quite the friendship with Judy Collins.  What's it like to be able to work with one of your role models?  What do you think she exemplifies for women and girls everywhere?
Judy is endlessly curious. She's never stopped exploring new territory, reinventing, evolving. She's achieved so many huge successes in her long career, but she's never been content to just stay in her comfort zone. She's always exploring and searching. That's incredibly inspiring to me, and working with her gives me so much excitement and hope about my own path ahead, and everything that you can achieve if you allow yourself to keep growing and following your instincts. And her history as an activist is something that really inspires me, too. I have so much respect for all the ways she has influenced culture by speaking out through her music—from the Civil Rights Movement when she marched on Selma (and she has told me how very real the danger was for the artists who put themselves on the ground there), to Vietnam, the fight to end gun violence, as a spokesperson for UNICEF. Most recently, her song, "Dreamers," speaks to the struggles of immigrants at a critical time. She is such a formidable example of the artist as a citizen of her world and time.
 Are there any female musicians not already involved in this project that inspire you?
I mean, where should I start? SO MANY. The beautiful thing is that the album is blossoming into a multi-faceted touring and recording project that is giving life to more and more gorgeous collaborations. I'm cooking up new concerts and recordings with the soprano Ailyn Perez, harpist Bridget Kibbey, mezzo soprano J'Nai Bridges, soprano Julia Bullock, the guitarist Jiji, and other spectacular, visionary artists. I have a piano concerto by Paola Prestini coming next year, and other exciting collaborations with composers. And the partnerships that started with the album are also expanding into the future.
Some artists I'd love to work with? Diana Ross!! Esperanza Spalding, Alison Balsom, Lila Downs, Maggie Rogers, Leila Josefowicz, Anoushka Shankar, Helga Davis, Helene Grimaud…I also want to reach across disciplines and work with poets, dancers, designers, artists—share our creative ideas and see what happens!
 How and when did you become involved with Plan International?
I've been a little frustrated in the past, because I feel that sometimes the life-changing, world-bettering power of what we do in the arts stays confined within the borders of arts communities and audiences. I think that art and music—the products of human expression and creativity—are essential to the lives of human beings. But there are also other things that are essential to the lives of human beings, like food, water, healthcare, and education. So with Holes in the Sky, I'm trying to reach outside of the confines of my arts world to connect with organizations who are doing the rest of the work to support young girls and women across the world, protecting their rights and well-being. We're dedicating the message and the music of this album to raising awareness for organizations like Plan International, working globally to ensure that girls have access to education and opportunity, and also other non-profits like the Lower Eastside Girls Club in New York, the Los Angeles Downtown Women's Center, fighting the epidemic of homelessness in California.
"I'm excited about the potential of joining forces so that I can put my music to the service of human rights and female empowerment." —Lara Downes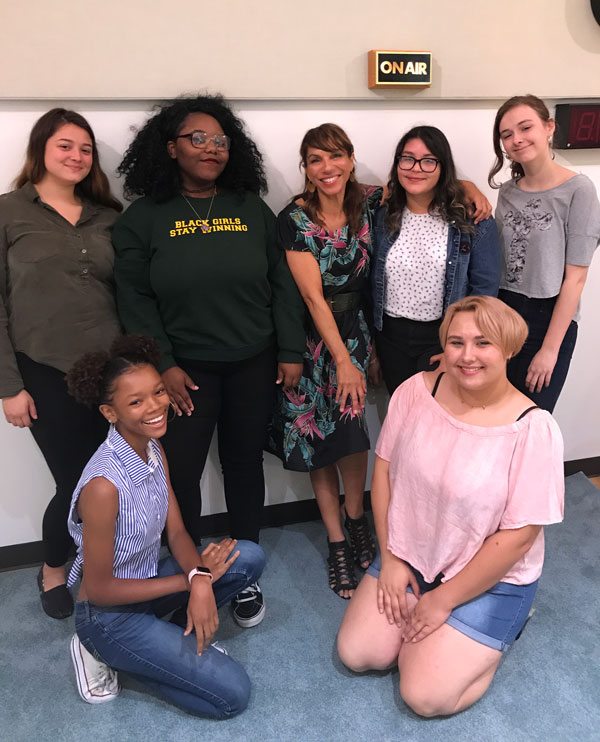 If you could give one piece of advice to girls everywhere, what would it be?
Listen to the voice that speaks up inside you. The one that speaks just for you—not because of what anyone else thinks you should think or do or be. You're born with that voice, and it will guide you in the right direction if you let it. Dream big, know that your future is an open road. Make holes in the sky.
What is the one thing you want people to take away from this project?
I think the music on this album comes from a place of vision and openness. All of the women who contributed writing and performances are innovators, dreamers, and trailblazers—and I love all of them! The collaborations are very full of joy and trust and affection. So I hope that listeners hear that in the music, and that they recognize the beauty of what comes out when people allow free rein to their creativity and expressiveness. We are all artists who have taken chances and followed our passions and curiosities to create new ideas and new sounds.
There are amazing stories of strength, survival and resilience here—that's obvious and clear in the music of artists like Florence Price, Margaret Bonds, Billie Holiday, and Nina Simone—women of color who fought tremendous discrimination early in the 20th century. I want to honor and pay tribute to those stories. I think that the power of the creative urge is one of the most remarkable human traits. But resilience and strength are also present in the lives of all the artists on the album. Judy Collins has struggled in her life with addiction and loss. Rachel Barton Pine has overcome the physical obstacles of a horrific accident. We've all dealt with our life challenges by pouring ourselves into our music, finding strength there, and giving something beautiful to the world. And I firmly believe that we all, as human beings, have the ability to do that—to survive and thrive by expressing ourselves, through whatever medium.
If you could give one piece of advice to girls everywhere, what would it be?
Listen to the voice that speaks up inside you. The one that speaks just for you—not because of what anyone else thinks you should think or do or be. You're born with that voice, and it will guide you in the right direction if you let it. Dream big, know that your future is an open road. Make holes in the sky.
 What is your favorite unCLASSIFIED playlist and why?
Every playlist that includes my music!!! Honestly though, I am such a fan of what unCLASSIFIED is doing to broaden the audience for classical music and redefine its parameters. I love the Need to Know playlists because they do such a great job of providing entry into various parts of the musical landscape. Really well curated and diverse. I love all the potential of streaming music to let listeners explore, meander, get happily lost, and find new music they didn't even know they were looking for!
What is your streaming platform of choice?
I use Spotify a lot, and Apple Music. For someone like me who is always on the road, I depend on those platforms for everything: from my gym workout, to surviving a long flight, to going to sleep in a strange hotel room, to studying and researching new music. Could not get along without them!
Anything else you want us to know?  
I'm just so excited about the near and far future. I feel so fortunate to be able to create an ambitious, genre-fluid, very personal project like Holes in the Sky and share it with the world. I hope your listeners love the music!
Check out Holes In The Sky, Lara's new album featuring outstanding performances by a veritable who's who of women in music!