Summer Road Trip:  Meet Nathan Chan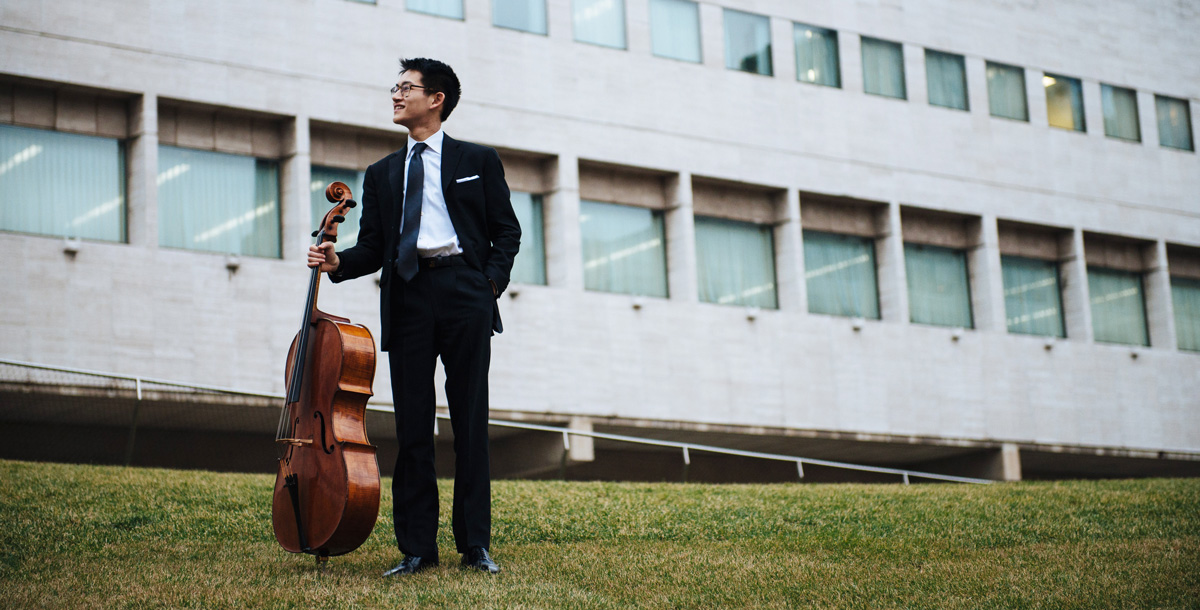 We liked Seattle so much we decided to stay a few more days!  This time we are hanging out with Seattle Symphony cellist and YouTube superstar Nathan Chan, who has made quite a name for himself in the classical music world and beyond.  With over 7 million views on YouTube and quite the social media following, we were dying to sit down with him for a chat.
Nathan has been holding down the fort as Third Chair Cello with the Seattle Symphony since 2017, but his accomplishments don't stop there.  He is a graduate of both Columbia University, where he studied economics, and the prestigious Juilliard School in NYC.  A California native, he began his musical career at the young age of three by conducting the San Jose Chamber Orchestra.
If that's not enough to convince you that he is someone worth knowing about, we'll just leave this right here:
"Nathan is perhaps one of the most inspiring human beings that I've come across in the last two decades.  It never ceased to amaze me how blessed, generously gifted and humble he is.  I can't wait to do other things with him. He is destined for big success."  –Roberta Flack
Yes, THE Roberta Flack.
Keep reading to find out more about this nice guy who plays the cello, where he likes to hang out in Seattle, and what you can expect to hear him sing at karaoke night!
P.S.  Does anyone recognize Danielle Kuhlmann in the photo below?  Not surprising these two are friends!
Hello!  I am Nathan Chan, a nice guy who plays the cello!  Here are 28 things you didn't know about me:
1.  My favorite thing about Seattle is the amazing confluence we have between culture, nature, and technology.
2.  My friends would describe me as a passionate people person who's always down for an adventure.
3.  If I didn't play the cello for a living, I would love to be a tech entrepreneur by day and a talk show host at night.
4.  The desire to innovate with passion and execute with purpose is my greatest motivator.
5.  I have so many wonderful memories, but a few professional achievements that stand out are being able to collaborate with the legendary soul singer Roberta Flack on a Beatles tribute album and working with the world-class cellist Gautier Capuçon at the Fondation Louis Vuitton in Paris over the course of a year.
6.  My heroes are Steve Jobs for his unrelenting charisma, Elon Musk for his inspiring vision, and Yo-Yo Ma for being a great human being before being an amazing artist.
7.  If I could have one superpower it would be the power to talk my way into or out of anything 😛
8.  Playing the Star Wars theme under John Williams with the Seattle Symphony was a lifetime highlight.
9.  I like classical music because it is a system of communication in which both communicator and recipient can have two totally different but valid experiences at the same time.
10.  My favorite way to enjoy classical music is by bopping my head in my seat at a live concert.
11.  My favorite pieces of classical music are Beethoven symphonies and Brahms chamber music.
12.  Listen to This: New Classical is my favorite unCLASSIFIED playlist because it's like a modern top rising chart for the classical world!
13.  The last concert I attended was the wonderful end of year concert held by the Bellevue High School Orchestra!  They were celebrating for so many reasons, but what particularly struck me was the profound impact the teacher, Chase Chang, had on the students and how appreciative they were of his inspiration.
14.  My favorite Seattle venues to perform in are Capitol Cider in Capitol Hill or Tractor Tavern in Ballard. Ooo and the Chihuly Boathouse!
15.  The weirdest concert I ever participated in was The Silk Road Ensemble's Global Musician Workshop, where I learned how to fiddle, sing, and play the cello standing up all at the same time. (Thanks Mike Block!)
16.  My favorite post-concert hang is post-concert shots with my buds and then clubbing!
17.  I spend most of my time thinking about cool projects, producing music, checking my social media, watching YouTube, driving my Tesla, and oh yeah, practicing.
18.  I spend my evenings being a night owl and living in the moment.
19.  On the weekends you can find me recording in my home studio, taking a road trip to Vancouver in my Tesla, or hanging out with friends.
20.  Slate Coffee Roasters is the best place in town for coffee (but I'm open to other suggestions)!
21.  My favorite restaurants in Seattle are Spinasse, Ramen Danbo, and Taylor Shellfish.
22.  I like to vacation because I get to meet new and interesting people from all walks of life and connect with them.
23.  I like to sing Where is the Love? by the Black Eyed Peas at karaoke.
24.  My favorite foods are ramen and seafood.
25.  My favorite TV show right now is Silicon Valley.
26.  Inception is my favorite movie.
27.  I could not survive without the feeling that I contribute in some way to society.
28.  One thing people would never guess about me is that I can cross a single eye.
One more thing from Nathan:
Check out my Instagram and YouTube channel.  I think you'll love them!  (We agree)

That's a wrap for our time in Seattle!  Big thanks to Danielle and Nathan for showing us around.  What city will unCLASSIFIED visit next?  You'll have to stay tuned (see what we did there?) to find out!  Until next time, friends!